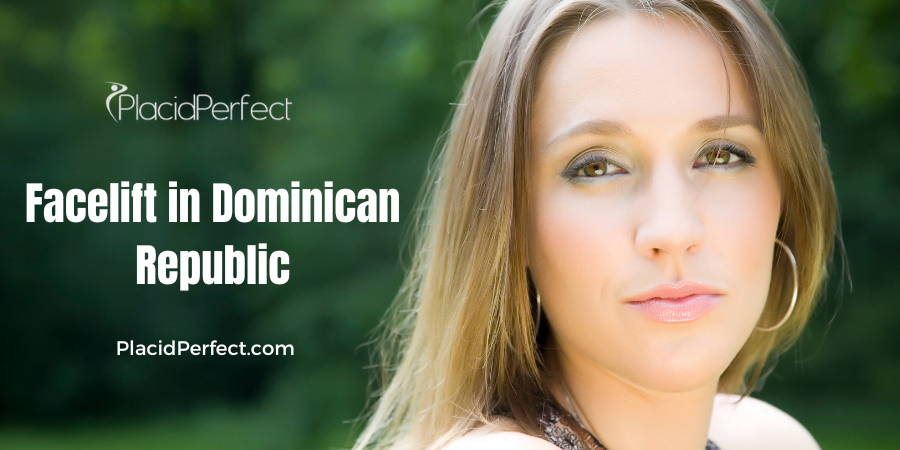 Experiencing the Ultimate Facelift in Dominican Republic from Top Clinics & Doctors
Undergoing a facelift is a transformative journey, and what better place to embark on this rejuvenating experience than in the picturesque Dominican Republic? With its stunning landscapes and world-class medical facilities, the Dominican Republic has emerged as a sought-after destination for individuals seeking facelift procedures. These packages offer more than just a cosmetic transformation; they provide an opportunity to combine a rejuvenating treatment with a memorable getaway.
Overview of the Facelift Surgery
Facelift procedures encompass a range of techniques, each designed to address specific concerns and provide tailored results. From traditional facelifts to minimally invasive options, patients can choose a procedure that aligns with their preferences and goals. A thorough consultation with a qualified medical professional will help determine the most suitable approach for each individual.
Cost of Facelift in Dominican Republic
Facelift procedure prices in the Dominican Republic vary based on several factors, including the extent of the treatment, the clinic's reputation, and the specific amenities included in the package. Generally, facelifts in the Dominican Republic are priced more competitively than in many Western countries, making them an attractive option for those seeking high-quality results without breaking the bank.
| | |
| --- | --- |
| Provider | Cost in USD |
| Dra. Silvia Aviles | $7,000 |
| CIPLA | $6,350 |
| Centro Medico el Vergel | $6,900 |
Note: price may change and vary depends on complexity of procedures and patient condition.
Facelift Packages Inclusions:
Consultation and Assessment: A comprehensive pre-operative consultation helps the medical team understand the patient's expectations and medical history, ensuring a personalized treatment plan.
Accommodation and Transportation: Facelift packages often include comfortable accommodation options and transportation services for the convenience of patients traveling from abroad.
Post-Operative Care: Beyond the procedure, these packages encompass post-operative care, including follow-up appointments and assistance during the recovery period.
Guided Recovery Activities: Some packages offer guided excursions and relaxation activities, allowing patients to enjoy the beauty of the Dominican Republic while recovering.
Multilingual Support: To enhance the patient experience, packages often include multilingual support staff who can assist with communication and coordination.
Facelift Packages Exclusions:
Personal Expenses: Patients are responsible for personal expenses such as meals, shopping, and leisure activities outside of the package offerings.
Additional Treatments: While the package covers the specified procedure, additional treatments or revisions may incur extra charges.
Extended Stays: If patients choose to extend their stay beyond the package duration, accommodation and related expenses may not be covered.
Travel Insurance: Travel insurance is typically not included and is recommended to cover unexpected events or complications.
Non-Medical Services: Services not directly related to the facelift procedure, such as spa treatments or recreational activities, may not be included in the package.
Facelift Surgery Pre-Op Tests:
Blood Tests: These tests evaluate various aspects of a patient's health, ensuring they are fit for surgery and anesthesia.
Cardiac Evaluation: For older patients or those with existing heart conditions, a cardiac evaluation helps determine if the heart is healthy enough for surgery.
Allergy Testing: Identifying potential allergies is crucial to prevent adverse reactions to anesthesia or medications.
Medical Imaging: Scans like X-rays or MRIs provide a clear view of the facial structure, aiding in precise surgical planning.
Skin Assessment: Evaluating skin condition helps tailor the procedure and aftercare to individual needs.
Benefits of Choosing Facelift in Dominican Republic
Expertise and Experience: The Dominican Republic boasts a medical community that excels in cosmetic procedures, particularly facelifts. Surgeons in this country are renowned for their skill and experience, ensuring that patients receive top-tier care.
State-of-the-Art Facilities: Medical facilities in the Dominican Republic are equipped with the latest technology and adhere to international standards. Patients can rest assured that they will receive treatment in a modern and sterile environment.
Affordability: The cost of facelift procedures in the Dominican Republic is often more budget-friendly than in many other countries. This affordability does not compromise the quality of care or the expertise of the medical professionals.
Exotic Recovery: After undergoing a facelift, recovery is best accompanied by relaxation. The Dominican Republic's beautiful beaches and tranquil atmosphere offer the perfect backdrop for a soothing recuperation period.
Holistic Experience: Combining medical treatment with a vacation allows patients to enjoy a holistic experience. They can return home not only with a refreshed appearance but also with cherished memories of their time in the Dominican Republic.
Best Facelift Clinics in the Dominican Republic
The Dominican Republic hosts a range of prestigious clinics known for their excellence in performing facelifts. These facilities maintain a reputation for their skilled medical teams, advanced technology, and dedication to patient care. Patients considering facelift procedures can choose from these renowned clinics to ensure a successful and comfortable experience.
Affordable Packages for Facelift in Dominican Republic
Facelift packages in the Dominican Republic typically offer a comprehensive experience that extends beyond the procedure itself. These packages often include services such as pre-operative consultations, post-operative care, accommodation, transportation, and even guided tours. Choosing the right package ensures a stress-free journey from consultation to recovery.
Highly Skilled Plastic Surgeons for Facelift in Dominican Republic
When seeking a facelift in the Dominican Republic, patients have access to a selection of highly skilled and experienced doctors. These experts are dedicated to providing personalized care, understanding each patient's unique goals and tailoring treatments to achieve the desired results. Their commitment to excellence contributes to the country's reputation as a hub for cosmetic procedures.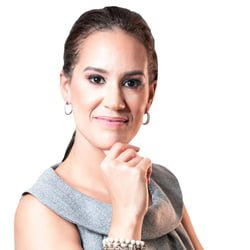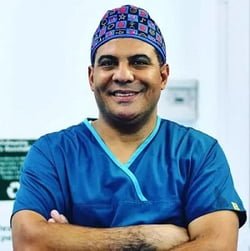 Is Facelift Surgery Right for You?
If you desire a more youthful appearance by addressing sagging skin and wrinkles, a facelift could be suitable.
Good candidates are generally healthy non-smokers with realistic expectations.
Consultation with a qualified surgeon is essential to determine individual suitability.
Facelift in Dominican Republic Before and After Images
Facelift results vary based on the technique used and individual factors. Patients can anticipate a smoother, firmer facial contour and a reduction in visible signs of aging. Before and after photos from previous patients can offer insights into potential outcomes.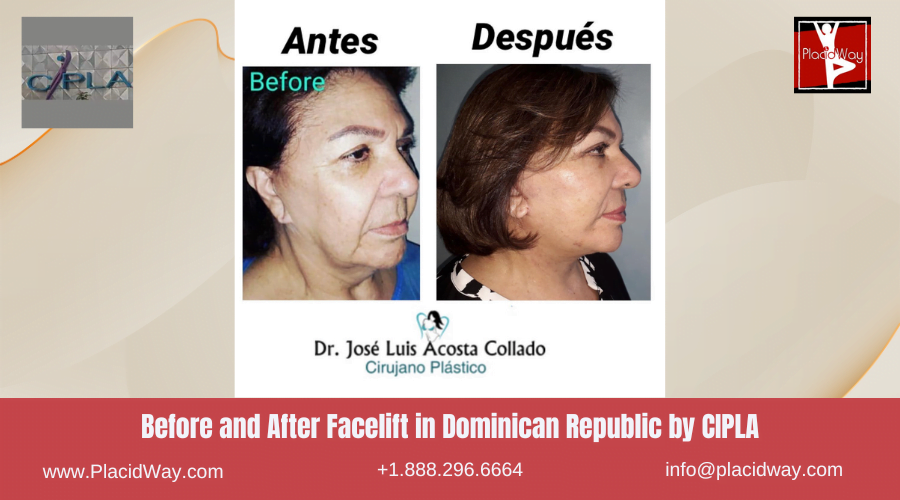 What to Expect During the Facelift in Dominican Republic
Consultation: Detailed discussions with the surgeon about expectations, techniques, and potential outcomes.
Anesthesia: Administered to ensure comfort during the procedure.
Incisions: Depending on the technique, incisions are strategically placed to minimize visible scarring.
Tissue Repositioning: The surgeon repositions underlying tissues for a natural, youthful look.
Closure: Incisions are closed meticulously, and dressings are applied.
FAQs (Frequently Asked Questions)
1. How much does a facelift procedure cost in the Dominican Republic?
Facelift costs in the Dominican Republic vary based on factors such as technique, extent of the procedure, and clinic reputation. However, procedures are often more affordable compared to Western countries.
2. What types of facelift techniques are available in the Dominican Republic?
The Dominican Republic offers a range of facelift techniques, including traditional facelifts, mini facelifts, and non-surgical options like thread lifts. Your surgeon will recommend the most suitable technique for your specific needs.
3. Are the surgeons performing facelifts in the Dominican Republic qualified?
Yes, many surgeons in the Dominican Republic are board-certified and highly experienced in cosmetic procedures. Researching the credentials of your chosen surgeon and clinic is important to ensure quality care.
4. How long is the typical recovery period after a facelift in the Dominican Republic?
Recovery times can vary based on the extent of the procedure and the individual's healing process. Generally, patients can expect a recovery period of about 1 to 2 weeks before resuming normal activities.
5. Is it possible to combine a vacation with a facelift procedure in the Dominican Republic?
Yes, many facelift packages in the Dominican Republic are designed to provide a holistic experience. These packages often include accommodation, transportation, and even guided tours, allowing you to enjoy a rejuvenating vacation alongside your treatment.
Embark on a Journey to Improve Yourself with Facelift in Dominican Republic!
Embarking on a journey of transformation and rejuvenation has never been more enticing than with the exquisite facelift packages offered in the captivating Dominican Republic. As you seek to rediscover your youthfulness and enhance your natural beauty, the Dominican Republic presents an ideal destination that seamlessly blends medical excellence with the allure of a tropical paradise. To initiate this life-enriching experience, all you need to do is take the first step and book a consultation through the trusted platform of PlacidWay Medical Tourism. Click button below to get started: