Revitalize Your Contours: Tummy Tuck in Dominican Republic
Embark on a transformative journey to achieve a sculpted and revitalized abdominal profile with our exceptional tummy tuck packages in the Dominican Republic. Renowned for its thriving medical tourism landscape, the Dominican Republic offers a remarkable blend of skilled surgeons, state-of-the-art facilities, and cost-effective solutions. Our tummy tuck packages are meticulously designed to cater to your individual needs, encompassing the entire spectrum of care from pre-operative consultations to post-operative support. Experience the expertise of board-certified plastic surgeons in a destination that combines world-class medical care with the allure of a tropical getaway.
Overview of the Tummy Tuck Surgery
Tummy tuck surgery, also known as abdominoplasty, is a transformative cosmetic procedure aimed at enhancing the appearance and contour of the abdominal area. This surgical intervention involves the removal of excess skin and fat, often associated with factors such as pregnancy, weight fluctuations, or aging. During the procedure, the underlying abdominal muscles are also tightened, resulting in a firmer and more toned abdomen.
Tummy tuck surgery is suitable for individuals who struggle with loose skin, stretched muscles, and persistent pockets of fat that are unresponsive to diet and exercise. The surgery can be customized to address specific concerns, such as a full tummy tuck targeting the entire abdominal area or a mini tummy tuck focusing on the lower abdomen. With the potential to deliver a more sculpted and youthful silhouette, tummy tuck surgery offers a renewed sense of confidence and body satisfaction.
Cost of Tummy Tuck in Dominican Republic
Tummy tuck procedure prices in the Dominican Republic vary depending on factors such as the extent of the surgery, the surgeon's experience, and the facility's reputation. Generally, the cost is considerably lower compared to countries like the United States or the United Kingdom, making the Dominican Republic an attractive destination for those looking to undergo this transformative procedure at a more affordable rate.
| | |
| --- | --- |
| Provider | Cost in USD |
| Dr. Rafael Mirabal Clinic | $5,000 |
| Dra. Silvia Aviles Clinic | $4,000 |
| CIPLA | $5,200 |
| Dr. Javier Baez Angles Clinic | $5,800 |
| Centro Medico el Vergel | $7,900 |
Note: price may change and vary depends on complexity of procedures and patient conditions.
Tummy Tuck Packages Inclusions
Surgery: The package covers the surgical procedure itself, which includes the removal of excess skin and fat, as well as muscle tightening if necessary.
Post-operative Care: Comprehensive post-operative care is included to ensure a smooth recovery process. This may involve follow-up appointments, wound care, and guidance on managing discomfort.
Medications: Necessary medications, such as pain relievers and antibiotics, are often included in the package to manage pain and prevent infections.
Consultations: Pre-operative and post-operative consultations with the surgeon are typically included, allowing patients to discuss their goals, concerns, and progress.
Transportation: Some packages may offer transportation services to and from the clinic or hospital, ensuring convenience for patients traveling from abroad.
Tummy Tuck Packages Exclusions
Travel Expenses: While some packages may include transportation, additional travel expenses such as flights and visas are usually not covered.
Accommodation: Accommodation costs are generally excluded from the package. Patients will need to arrange their own lodging during their stay.
Additional Treatments: If any additional treatments or procedures are recommended or desired, they may not be included in the package price.
Personal Expenses: Expenses such as meals, sightseeing, and personal shopping are not typically covered by the package.
Complications and Revisions: In the rare event of complications or the need for revisions, additional costs may apply.
Tummy Tuck Pre-Op Tests:
Blood Tests: Blood tests are conducted to assess the patient's overall health, check for any underlying conditions, and ensure they are fit for surgery.
EKG/ECG: An electrocardiogram may be performed to evaluate the patient's heart health and detect any potential issues.
Medical History Review: The surgeon will review the patient's medical history to identify any factors that might impact the surgery or recovery.
Physical Examination: A thorough physical examination helps the surgeon assess the patient's abdominal area, skin elasticity, and muscle condition.
Imaging Studies: Imaging studies like ultrasound or CT scans may be conducted to provide a clear view of the abdominal structures and guide the surgical plan.
Top 5 Reasons of Choosing Tummy Tuck in Dominican Republic
Expert Surgeons: Benefit from the expertise of highly skilled and board-certified plastic surgeons in the Dominican Republic, known for their precision and exceptional results.
Affordable Excellence: Enjoy cost-effective tummy tuck packages that provide top-tier surgical outcomes without compromising your budget, making the Dominican Republic a cost-efficient choice.
Advanced Facilities: Experience the procedure in state-of-the-art medical facilities equipped with cutting-edge technology and adhering to international safety and hygiene standards.
Customized Care: Receive personalized attention and tailored treatment plans that cater to your unique needs, ensuring a comprehensive and satisfying experience.
Idyllic Recovery Setting: Combine your medical journey with a serene tropical escape, allowing you to recover and rejuvenate amidst the stunning landscapes of the Dominican Republic.
Best Plastic Surgery Clinics in Dominican Republic for Abdominoplasty
The Dominican Republic is home to several world-class medical facilities that specialize in plastic surgery, including tummy tucks. These clinics are equipped with state-of-the-art technology, offer top-notch patient care, and maintain high standards of safety and hygiene. Patients can expect a seamless and comfortable experience when opting for tummy tuck treatment in the country.
All Inclusive Packages for Tummy Tuck in Dominican Republic
Tummy tuck packages in the Dominican Republic are designed to cater to the diverse needs and preferences of patients. These packages typically include the surgery itself, post-operative care, necessary medications, and sometimes even accommodation and transportation services. The packages are curated to ensure that patients have a hassle-free and comfortable experience throughout their medical journey.
Tummy Tuck Surgeons in Dominican Republic
In the Dominican Republic, you can find highly qualified and skilled plastic surgeons who specialize in tummy tuck procedures. These doctors have undergone rigorous training, hold relevant certifications, and have a track record of delivering exceptional results. Their expertise and dedication ensure that patients receive the highest level of care and achieve their desired outcomes.
Is Tummy Tuck Surgery Right for You?
Health Assessment: A thorough health assessment will determine if you are a suitable candidate for a tummy tuck. Factors such as overall health, medical history, and current lifestyle will be considered.
Realistic Expectations: Having realistic expectations about the results of the surgery is crucial. A tummy tuck can improve the appearance of the abdomen, but it's essential to understand its limitations.
Desired Outcome: If you are unhappy with excess skin or weakened abdominal muscles due to factors like pregnancy or weight loss, a tummy tuck could be an effective solution.
Consultation: Schedule a consultation with a qualified plastic surgeon to discuss your goals, concerns, and medical history. The surgeon will help you make an informed decision based on your unique situation.
Tummy Tuck in Dominican Republic Before and After Images
Tummy tuck in Dominican Republic procedures can lead to remarkable transformations, enhancing the abdominal contour and boosting self-confidence. Before and after photos of previous patients can provide valuable insights into the potential outcomes of the surgery.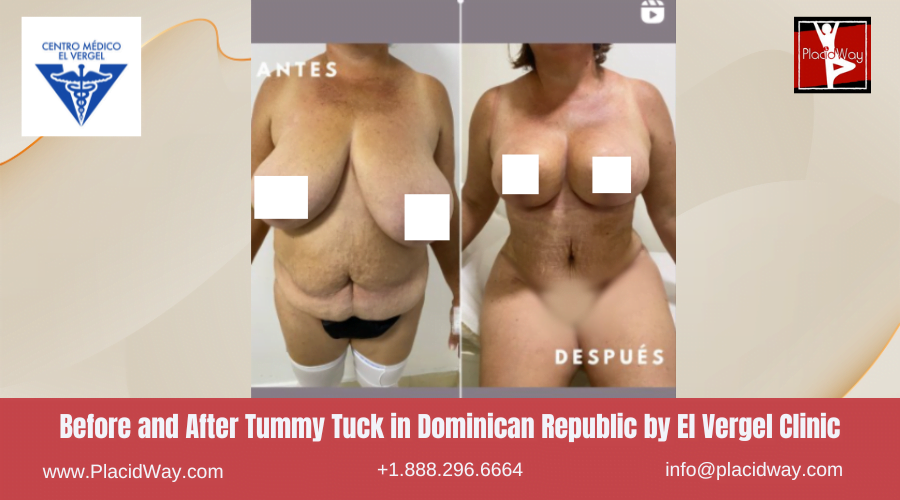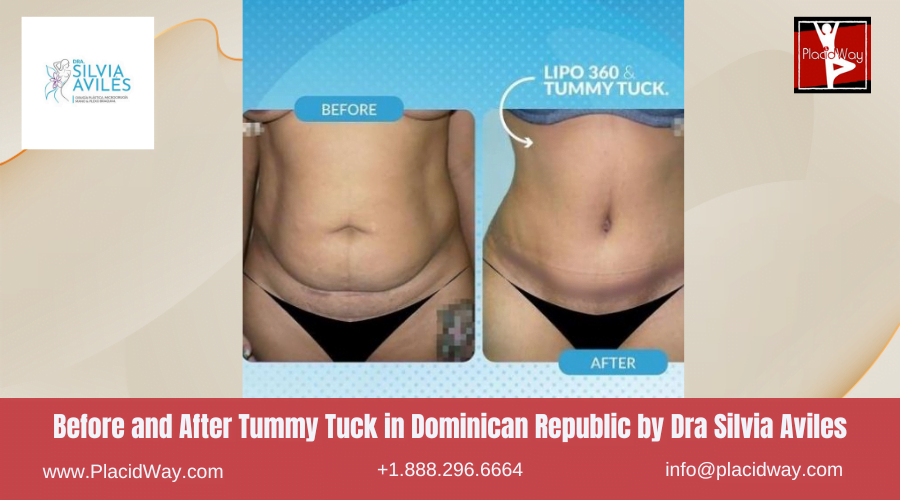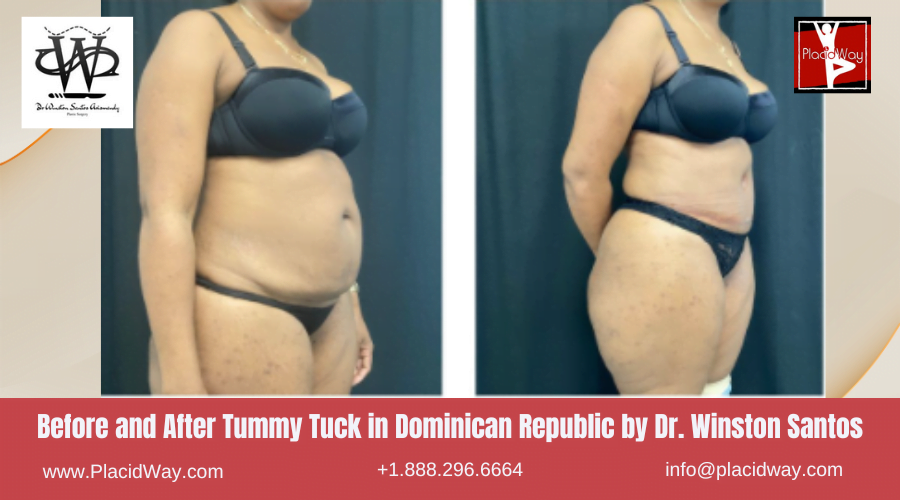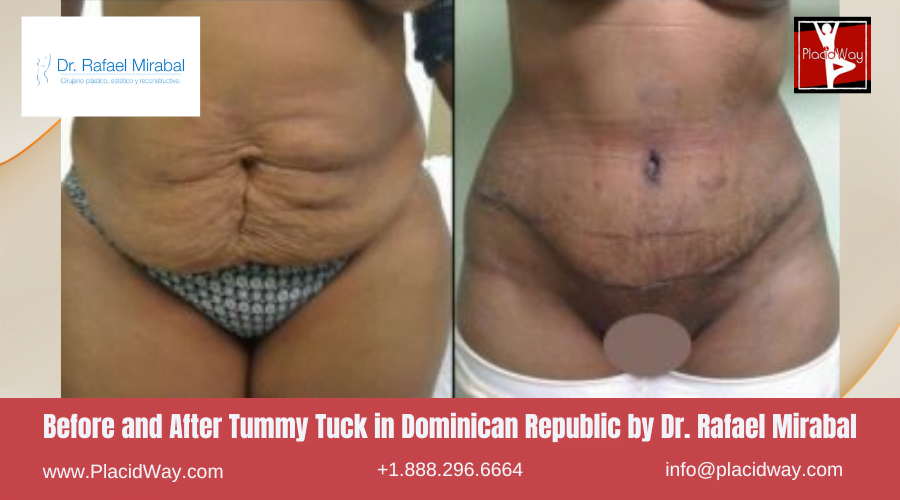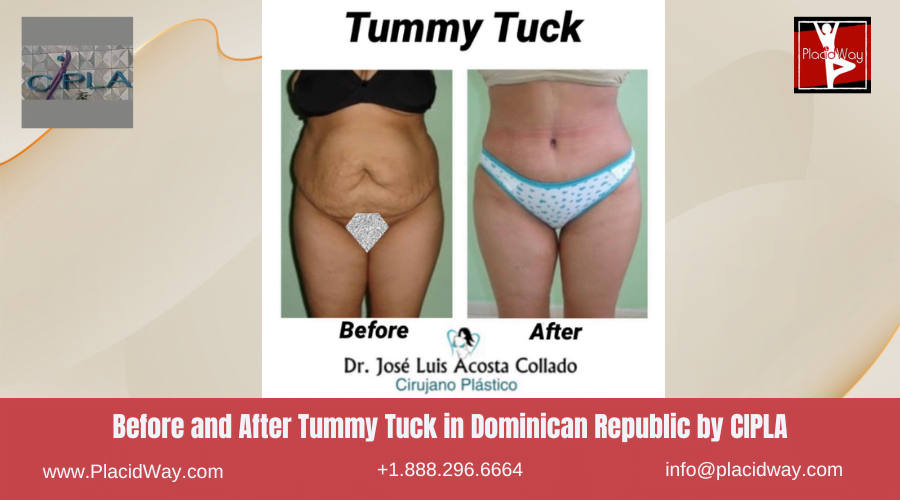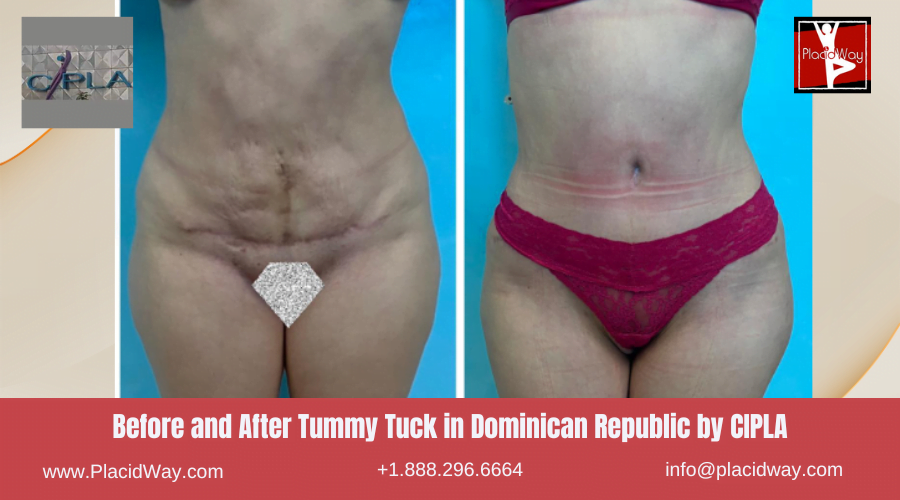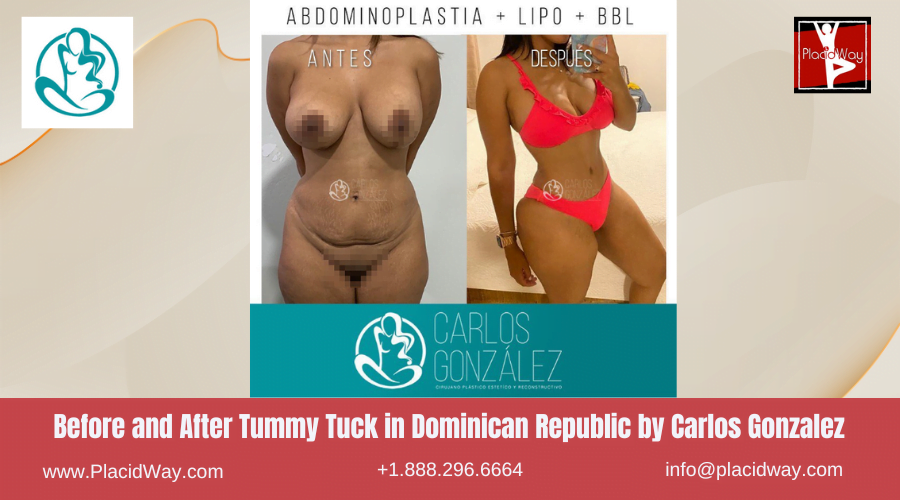 What to Expect During the Tummy Tuck in Dominican Republic?
Initial Consultation: The journey begins with an initial consultation where the surgeon evaluates your needs, discusses your goals, and outlines the surgical plan.
Surgery Day: On the day of the surgery, you'll undergo the procedure under anesthesia. The surgeon will make incisions, remove excess skin and fat, and tighten the underlying muscles if required.
Recovery: After the surgery, a recovery period is necessary. You may experience discomfort, swelling, and bruising, but these will gradually subside.
Follow-Up: Post-operative appointments will be scheduled to monitor your progress and address any concerns. The surgeon will guide you through each phase of recovery.
FAQs (Frequently Asked Questions)
1. Is the Dominican Republic a safe destination for tummy tuck surgery?
Answer: Yes, the Dominican Republic has a well-established medical tourism industry with reputable clinics and experienced surgeons. However, it's important to research and choose accredited facilities for the procedure.
2. How long is the typical recovery period after a tummy tuck in the Dominican Republic?
Answer: The recovery period varies, but most patients can expect to resume light activities within a week and return to normal activities within a few weeks. Full recovery may take several months.
3. Will I be able to communicate with medical staff effectively if I don't speak Spanish?
Answer: Many medical professionals in the Dominican Republic are proficient in English, especially in areas frequented by medical tourists. You can communicate your needs and concerns effectively.
4. Are there any risks associated with traveling shortly after a tummy tuck procedure?
Answer: Traveling shortly after surgery carries certain risks, including increased risk of blood clots and discomfort. Consult your surgeon before making travel arrangements.
5. Can I combine a tummy tuck with other cosmetic procedures during my trip to the Dominican Republic?
Answer: Yes, many patients choose to combine procedures like liposuction or breast augmentation with their tummy tuck. This approach can save time and recovery periods, but it's important to discuss it with your surgeon first.
Reclaim Your Confidence with Tummy Tuck in Dominican Republic!
Ready to take the first step towards a toned and rejuvenated abdomen? Book your consultation at PlacidWay Medical Tourism today. Our team of experienced professionals is dedicated to guiding you through the process, answering your questions, and helping you make an informed decision about tummy tuck treatment in the Dominican Republic. Reclaim your confidence and achieve the physique you've always desired with PlacidWay's comprehensive and personalized medical tourism services. Click contact us button below to get started!