Unveiling True Beauty: Rhinoplasty in Dominican Republic
Rhinoplasty, often referred to as a "nose job," is a cosmetic surgical procedure designed to reshape and enhance the appearance of the nose. The Dominican Republic has emerged as a popular destination for individuals seeking high-quality rhinoplasty procedures at competitive prices. With its skilled surgeons, state-of-the-art facilities, and beautiful surroundings, the Dominican Republic offers a unique combination of medical excellence and a rejuvenating getaway.
Understanding Rhinoplasty Procedures
Rhinoplasty is a surgical procedure that aims to reshape the nose, enhancing both its aesthetic appearance and functional aspects. It involves making precise incisions to access the underlying structures of the nose, then sculpting the cartilage and bone to achieve the desired shape and proportion. The procedure can address various concerns, such as a crooked nose, a dorsal hump, or a bulbous tip. Additionally, rhinoplasty can improve breathing difficulties by correcting structural abnormalities within the nose.
How Much is Rhinoplasty in Dominican Republic
Rhinoplasty procedure prices in the Dominican Republic are remarkably competitive compared to many Western countries. The affordability is not a compromise on quality; rather, it's a result of the country's lower overhead costs and the availability of skilled medical professionals. The cost of the procedure may vary based on factors such as the complexity of the surgery, the surgeon's experience, and the clinic's reputation. However, it's important to note that even with the lower prices, clinics in the Dominican Republic maintain high standards of safety and patient care.
| | |
| --- | --- |
| Provider | Cost in USD |
| Dra. Silvia Aviles Clinic | $2,800 |
| CIPLA | $4,600 |
| Dr Winston Santos Arismendy Clinic | $6,155 |
Note: price may change and vary depends on complexity of procedures and patient conditions.
Rhinoplasty Packages Inclusions
Surgical Procedure: The core of any rhinoplasty package includes the surgical procedure itself, where the surgeon carefully reshapes the nose according to the patient's desired outcome.
Pre-operative Consultations: Comprehensive consultations with the surgeon before the procedure allow for a thorough understanding of the patient's goals and the development of a personalized surgical plan.
Post-operative Care: Adequate follow-up care is crucial for a smooth recovery. Post-operative appointments and guidance ensure that the healing process progresses as expected.
Accommodation: Many packages offer comfortable accommodation options, allowing patients to rest and recover in a stress-free environment.
Local Transportation: Transportation services are often included to facilitate travel between the clinic, accommodation, and other essential locations.
Rhinoplasty Packages Exclusions
Travel Costs: While local transportation may be included, travel expenses to and from the Dominican Republic are typically not covered in the package.
Personal Expenses: Costs related to personal shopping, entertainment, and sightseeing are usually not included.
Additional Medical Services: If any unforeseen medical services or treatments are required during the recovery period, these may not be covered by the package.
Extended Stay Costs: If patients wish to extend their stay beyond the package duration, additional accommodation and living expenses may apply.
Companion Costs: If patients choose to bring a companion, their expenses are generally not included in the package.
Rhinoplasty Surgery Pre-op Tests
Medical History Review: Evaluating the patient's medical history helps the surgeon understand any underlying health concerns that might affect the procedure.
Physical Examination: A thorough physical examination helps identify any existing nasal issues and aids in planning the surgical approach.
Diagnostic Tests: Tests like blood work and imaging are performed to assess overall health and identify potential risks.
Allergy and Sensitivity Tests: These tests help identify any allergies that might impact the surgery or recovery process.
Breathing Assessment: Evaluating the patient's breathing patterns helps determine whether functional corrections are necessary during the rhinoplasty.
Advantages of Choosing Rhinoplasty in Dominican Republic
Expert Surgeons: The Dominican Republic boasts a cadre of highly trained and experienced plastic surgeons who specialize in rhinoplasty. Their expertise, coupled with a deep understanding of aesthetic proportions, ensures personalized and natural-looking results.
Cost Savings: One of the significant advantages of seeking rhinoplasty in the Dominican Republic is the cost-effectiveness. The country's affordable medical services, without compromising on quality, can result in substantial savings compared to procedures performed in other countries.
Modern Facilities: Leading clinics in the Dominican Republic offer state-of-the-art facilities equipped with advanced medical technologies. Patients can expect the latest surgical techniques and a comfortable environment for their procedure and recovery.
Cultural Experience: Combining medical treatment with a cultural experience can be a rewarding aspect of getting rhinoplasty in the Dominican Republic. Patients can explore the vibrant local culture, stunning beaches, and rich history while recovering in a beautiful setting.
Tailored Packages: Many clinics in the Dominican Republic offer comprehensive rhinoplasty packages that include not only the surgical procedure but also accommodation, transportation, and post-operative care, ensuring a seamless experience for international patients.
Best Rhinoplasty Clinics in Dominican Republic
The Dominican Republic is home to several reputable clinics that specialize in rhinoplasty procedures. These clinics are equipped with modern facilities and staffed by skilled medical professionals dedicated to providing exceptional patient care. When considering a clinic for your rhinoplasty procedure, it's essential to research and select one with a proven track record of successful surgeries and positive patient experiences.
All Inclusive Packages for Rhinoplasty in Dominican Republic
Clinics in the Dominican Republic often offer a range of rhinoplasty packages tailored to suit the needs and preferences of international patients. These packages typically include the surgical procedure, pre-operative consultations, post-operative care, accommodation, local transportation, and sometimes even sightseeing opportunities. Each package is designed to provide a comprehensive and hassle-free experience for patients, allowing them to focus solely on their recovery and rejuvenation.
Rhinoplasty Surgeons in Dominican Republic
The Dominican Republic is known for its skilled and experienced plastic surgeons who specialize in rhinoplasty. When choosing a doctor for your procedure, it's essential to look for a surgeon with a strong reputation, relevant qualifications, and a portfolio of successful rhinoplasty cases. Many surgeons in the Dominican Republic have international training and affiliations, ensuring that patients receive the highest level of medical care.
Is Rhinoplasty Right for You?
Desired Aesthetic Changes: If you are unhappy with the appearance of your nose and have specific changes in mind, rhinoplasty might be suitable.
Functional Concerns: Individuals with breathing difficulties due to structural issues within the nose can benefit from rhinoplasty.
Realistic Expectations: Having realistic expectations about the outcome of the surgery is essential. A skilled surgeon can guide you on what can be achieved.
Good Health: Being in good overall health is important for a successful surgery and smooth recovery.
Consultation: A consultation with a qualified surgeon can help determine whether rhinoplasty is the right choice for you.
Rhinoplasty in Dominican Republic Before and After Images
Before committing to a rhinoplasty procedure, it's valuable to review before-and-after photos of previous patients. These images showcase the surgeon's skills and the potential outcomes of the surgery. However, it's important to note that every individual's anatomy is unique, so results may vary. Discussing your specific goals and concerns with your chosen surgeon during the consultation will provide a clearer understanding of what can be achieved.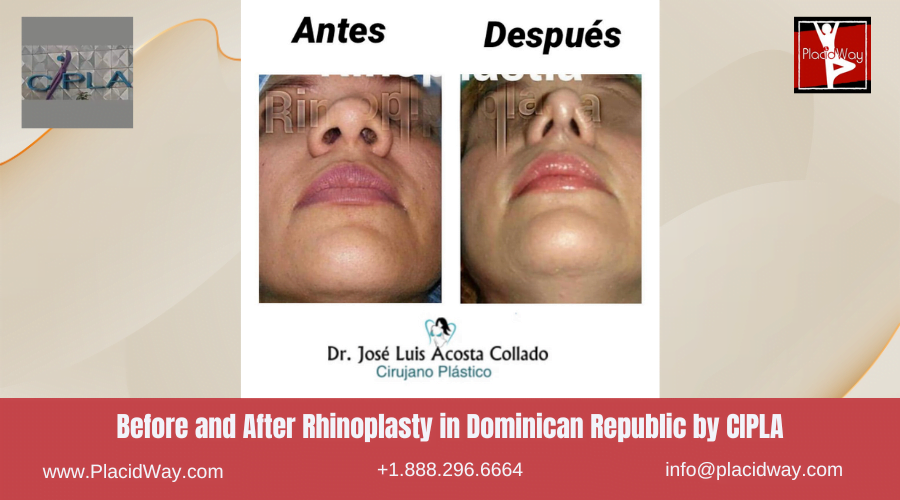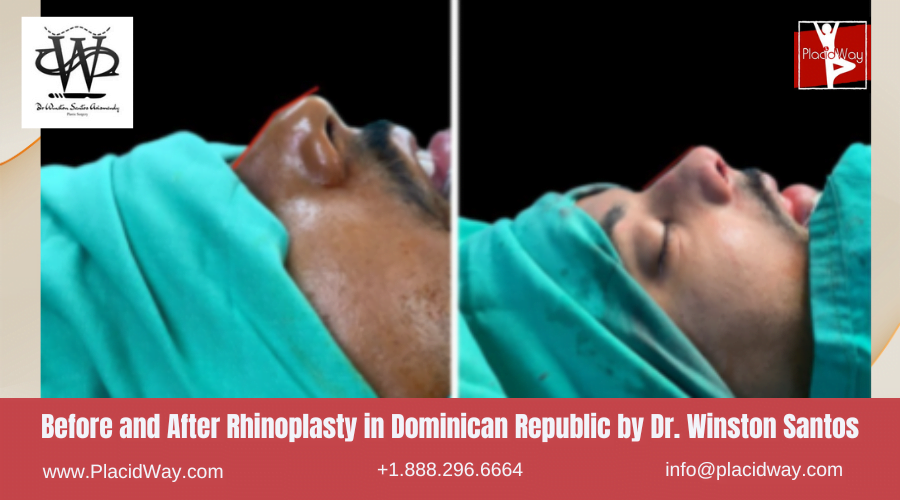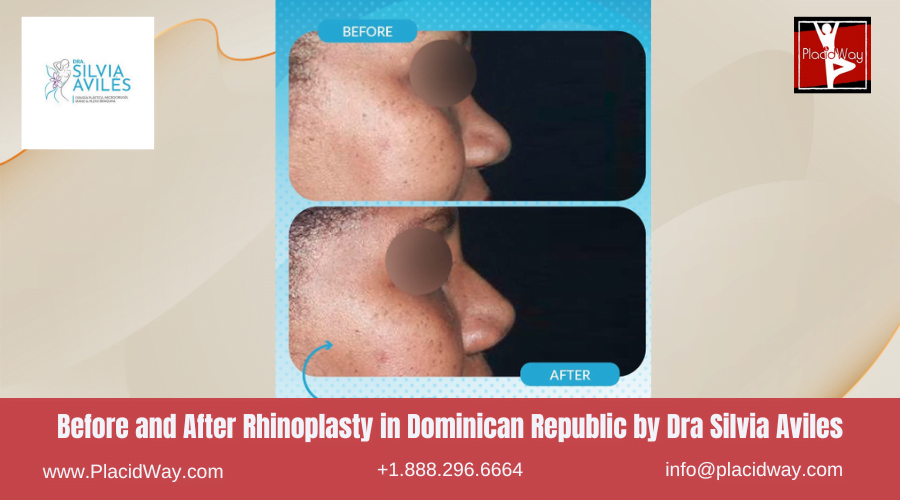 What to Expect During the Rhinoplasty Procedure?
Anesthesia: The procedure is typically performed under general anesthesia to ensure the patient's comfort.
Incisions: Incisions are strategically placed within the nose or on its exterior, depending on the surgical plan.
Reshaping: The surgeon reshapes the bone and cartilage to achieve the desired aesthetic and functional improvements.
Closing Incisions: Once the reshaping is complete, the incisions are meticulously closed with sutures.
Recovery: Patients can expect some swelling and bruising initially, but these gradually subside as the nose heals. Follow-up appointments are scheduled to monitor progress.
FAQs (Frequently Asked Questions)
1. Is the quality of rhinoplasty procedures in the Dominican Republic on par with international standards?
Absolutely. The Dominican Republic boasts skilled plastic surgeons and modern facilities that adhere to international medical standards, ensuring safe and effective rhinoplasty procedures.
2. What makes the Dominican Republic a popular destination for rhinoplasty?
The Dominican Republic offers a combination of expert surgeons, cost-effective procedures, modern facilities, and a chance to recover in a beautiful cultural setting.
3. How do I choose the right clinic and surgeon for my rhinoplasty procedure?
Research is key. Look for clinics with proven track records, experienced surgeons, and positive patient reviews. Consultations with potential surgeons will also help you make an informed decision.
4. Are rhinoplasty packages comprehensive and inclusive of all necessary services?
Yes, many packages in the Dominican Republic are designed to cover the entire rhinoplasty journey, including the surgical procedure, pre-operative consultations, post-operative care, accommodation, and sometimes local transportation.
5. Is there an ideal candidate for rhinoplasty?
Ideal candidates for rhinoplasty are individuals with aesthetic or functional concerns related to their nose, in good health, and with realistic expectations. Consultations with a qualified surgeon will help determine if the procedure is suitable for you.
Enhance Self Confidence with Nose Surgery in Dominican Republic!
If you're considering embarking on a journey to enhance your facial harmony and boost your self-confidence through rhinoplasty, we warmly invite you to reach out to PlacidWay Medical Tourism. Our dedicated and experienced team is here to cater to your needs, ensuring that you receive personalized and comprehensive guidance throughout every step of the process. From addressing your inquiries and concerns to providing detailed information about the various rhinoplasty packages available in the Dominican Republic, we are committed to empowering you with the knowledge you need to make an informed decision.