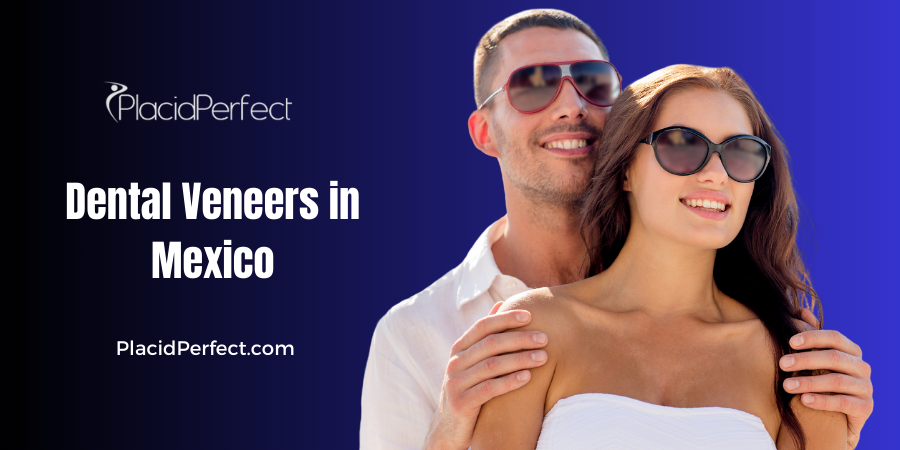 Dental Veneers in Mexico – Revitalize Your Smile
Dental veneers have become an increasingly popular solution for individuals seeking to enhance their smiles. With advancements in dental technology and the growing trend of medical tourism, Mexico has emerged as a leading destination for dental works. The allure of high-quality dental care at a fraction of the cost draws patients from around the world.
Definition of Dental Veneers
Dental veneers involve the application of thin shells, usually made of porcelain or composite resin, to the front surface of teeth. This cosmetic dentistry procedure aims to improve the appearance of teeth by addressing issues such as discoloration, misalignment, or irregular shape. The process typically includes consultation, tooth preparation, veneer creation, and final placement. Dental professionals in Mexico follow international standards to ensure the success and longevity of the veneer treatment.
Cost of Dental Veneers in Mexico
In Mexico, dental veneer procedure prices are significantly lower compared to many Western countries. The cost varies based on factors such as the material used for the veneers, the complexity of the case, and the reputation of the dental clinic. Generally, patients can expect to pay a fraction of the price they would in countries like the United States or Canada, making Mexico an attractive option for those seeking high-quality dental care without the hefty price tag.
| | |
| --- | --- |
| Provider | Cost in USD |
| Marietta Dental Care | $400 |
| All on X Dental Studio | $600 |
| Sani Dental Group | $450 |
| Teethsavers Dental Clinic | $250 |
| Costamed Medical Group | $315 |
| NEO Dental Group | $299 |
Note: price may change and vary depends on complexity of procedures and patient conditions.
Dental Veneers Packages Inclusions
Consultation: Comprehensive consultations with experienced dentists to discuss treatment options and address patient concerns.
Procedure Costs: The package covers the expenses associated with the dental veneer procedure, including the materials used and the dentist's fees.
Follow-up Appointments: Post-procedure check-ups to monitor the healing process and address any concerns or adjustments needed.
X-rays and Imaging: Necessary diagnostic procedures, such as X-rays, to assess the condition of the teeth and plan the veneer placement accurately.
Patient Support Services: Many packages include support services to assist international patients with travel arrangements, accommodation, and local transportation during their stay.
Dental Veneers Packages Exclusions
Travel Expenses: Costs associated with travel to and from Mexico are typically not included in the dental veneer packages.
Accommodation: While some packages may include accommodation, others may require patients to arrange and cover their own lodging expenses.
Additional Treatments: Any supplementary dental treatments or procedures beyond the veneer application may not be included in the package.
Personal Expenses: Patients should budget for personal expenses such as meals, sightseeing, and other leisure activities during their stay.
Insurance Coverage: Dental veneer packages usually do not cover travel or health insurance. Patients are advised to arrange suitable coverage before undergoing the procedure.
Dental Veneers Pre-Op Tests
Dental Examination: A thorough examination of the patient's oral health to assess the condition of the teeth and identify any potential issues.
X-rays: Diagnostic X-rays help dentists visualize the structure of the teeth and surrounding tissues, aiding in precise treatment planning.
Impressions: Creating impressions of the teeth ensures the custom-fit veneers will match the patient's natural teeth seamlessly.
Blood Tests: Some clinics may require basic blood tests to ensure the patient is in good overall health before undergoing the dental veneer procedure.
Consultation with the Dentist: A detailed consultation with the treating dentist to discuss the treatment plan, address patient concerns, and establish expectations.
Advantages of Choosing Teeth Veneers in Mexico
Cost-Effective Solutions: One of the primary advantages of opting for dental veneers in Mexico is the significant cost savings. Compared to many Western countries, Mexico offers competitive prices without compromising on the quality of care. Patients can achieve a stunning smile without breaking the bank.
Experienced and Qualified Dentists: Mexico boasts a pool of skilled and experienced dentists who are often trained internationally. Many dental professionals in Mexico are fluent in English, ensuring effective communication and a seamless treatment experience for international patients.
State-of-the-Art Facilities: Renowned dental clinics in Mexico are equipped with modern, state-of-the-art facilities that adhere to international standards. Patients can expect top-notch technology and equipment, providing them with cutting-edge dental solutions.
Short Waiting Times: Unlike some countries where long waiting times for dental procedures can be frustrating, Mexico offers shorter waiting periods. Patients can often schedule appointments and undergo treatments more promptly, allowing for a convenient and efficient experience.
Picturesque Locations: The appeal of Mexico extends beyond dental treatments. Patients have the opportunity to combine their dental procedures with a relaxing vacation, enjoying the beauty of Mexico's landscapes and vibrant culture.
Best Dental Clinics in Mexico
Mexico is home to several top-notch dental clinics that specialize in veneer treatments. These clinics uphold international standards of care, boasting experienced dentists and state-of-the-art facilities. Patients can choose from a variety of reputable clinics, each offering a range of services to cater to individual needs. Researching and selecting the right clinic ensures a positive and satisfying dental experience.
Affordable Dental Veneers Packages in Mexico
When seeking dental veneer treatments in Mexico, patients can explore various packages offered by clinics. These packages often include a combination of services such as consultation, procedure costs, follow-up appointments, and sometimes even accommodation. Choosing the right package depends on individual preferences and budget considerations.
Top Dentists in Mexico for Dental Veneers
In Mexico, skilled and qualified dentists specialize in dental veneer procedures. These professionals often have extensive training and experience in cosmetic dentistry, ensuring patients receive top-notch care. Researching the credentials and reviews of potential dentists is crucial for finding a practitioner who meets individual needs and expectations.
Is Dental Veneer Right for You?
Cosmetic Concerns: Dental veneers are suitable for individuals with cosmetic concerns such as stained, discolored, chipped, or misaligned teeth.
Good Oral Health: Candidates for veneer treatment should have good overall oral health, with healthy teeth and gums.
Realistic Expectations: Patients should have realistic expectations about the outcome of the procedure, understanding that veneers can enhance but not completely change the natural structure of teeth.
Commitment to Oral Care: Maintaining good oral hygiene and attending regular dental check-ups is essential for the long-term success of dental veneers.
Before and After Results of Dental Veneer in Mexico
Before undergoing dental veneer treatment in Mexico, patients can review before-and-after photos of previous cases. This allows individuals to gauge the skill of the dentist, understand potential results, and make informed decisions about their own treatment. The transformative effects of dental veneers are evident in these visual representations, showcasing the improvement in aesthetics and overall smile enhancement.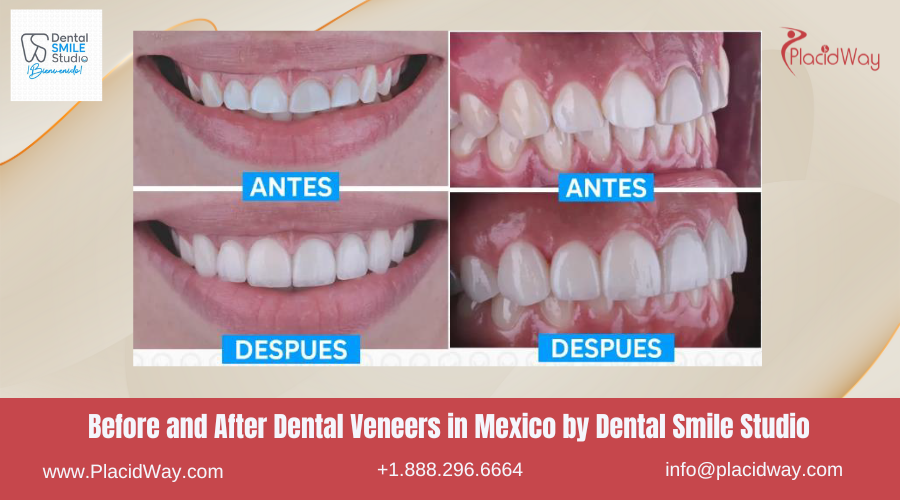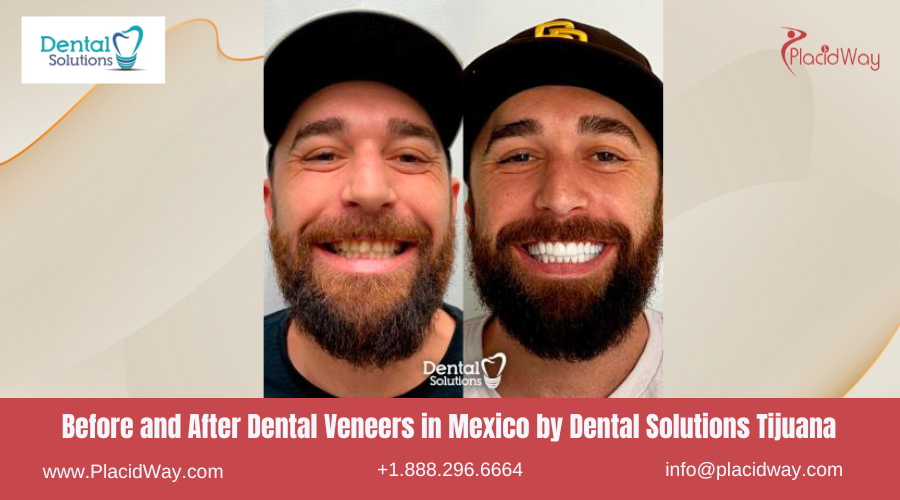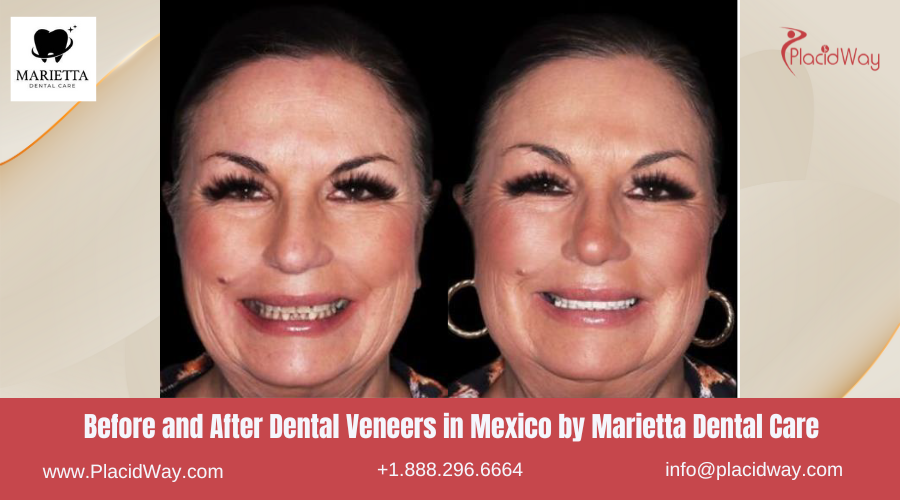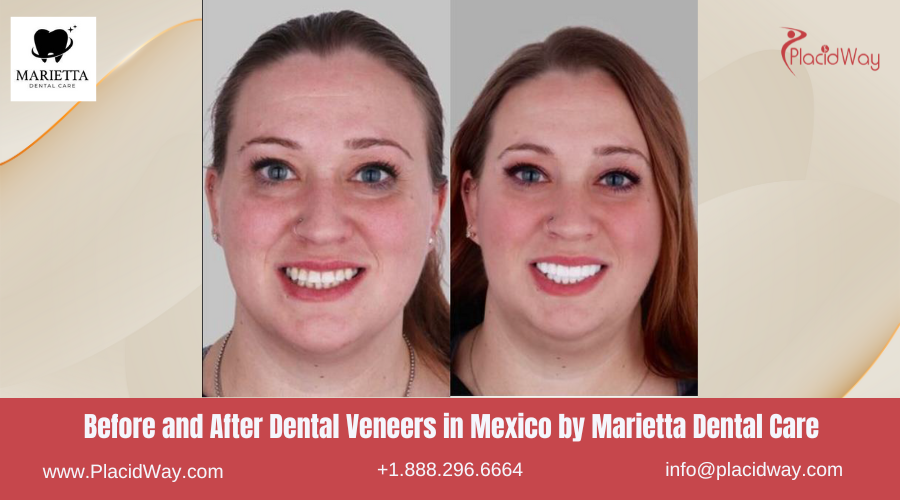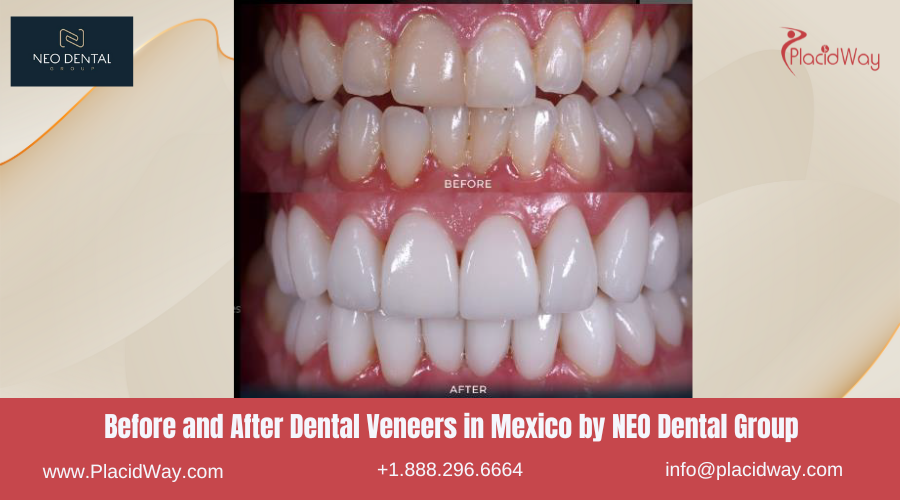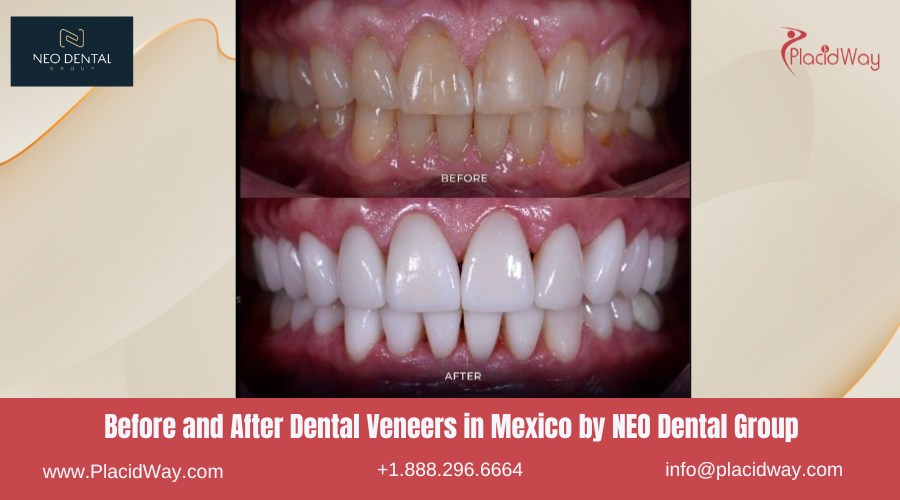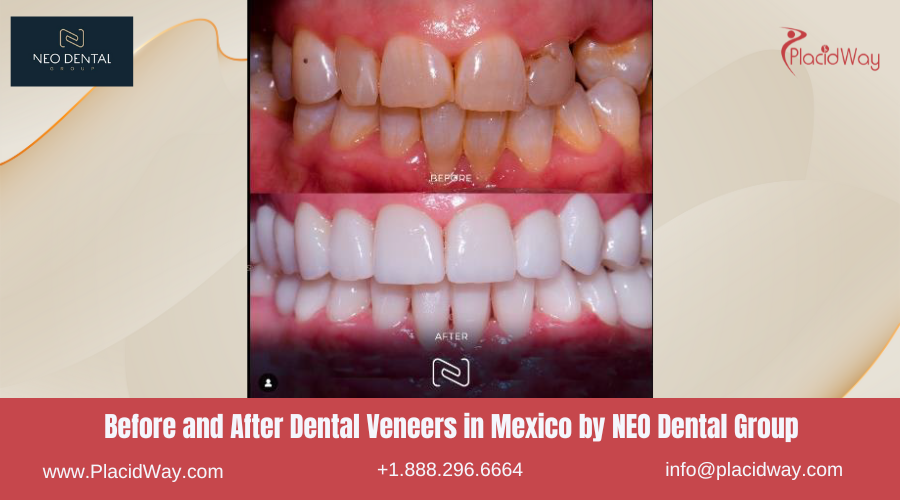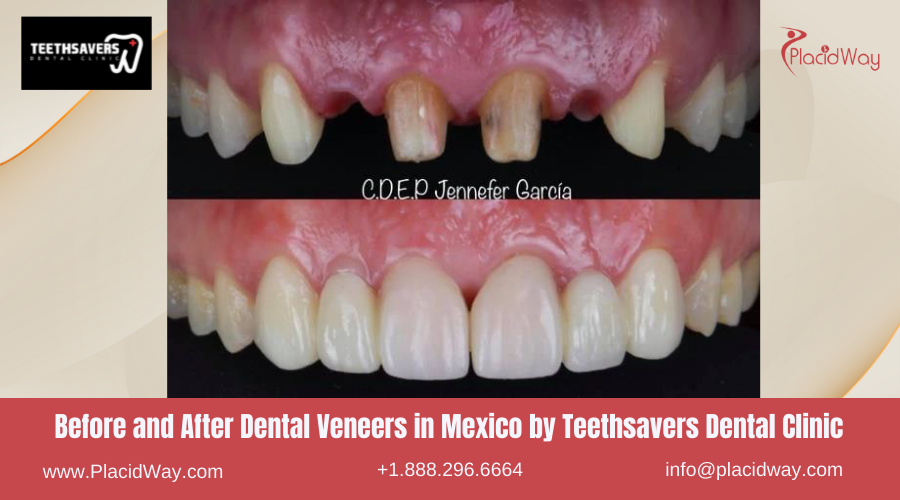 What to Expect During Dental Veneer in Mexico
Consultation: Detailed discussions with the dentist about goals, expectations, and the treatment plan.
Tooth Preparation: The dentist will remove a small amount of enamel to create space for the veneers.
Impression: Creating molds of the teeth to craft custom-fit veneers.
Temporary Veneers: In some cases, temporary veneers may be placed until the final ones are ready.
Final Placement: The custom veneers are bonded to the teeth, and any necessary adjustments are made for a perfect fit.
FAQs (Frequently Asked Questions)
1. Q: Are dental veneers in Mexico of the same quality as those in my home country?
A: Yes, dental veneers in Mexico are crafted with the same high-quality materials and adhere to international standards. Many dentists in Mexico receive training and certifications from reputable institutions worldwide.
2. Q: How much can I save by getting teeth veneers in Mexico compared to my home country?
A: The cost savings for dental veneers in Mexico are substantial, often ranging from 40% to 70% less than prices in countries like the United States or Canada. This makes Mexico an attractive and cost-effective option for quality dental care.
3. Q: Is communication with the dentists in Mexico a concern due to language differences?
A: No, many dentists in Mexico, especially those catering to international patients, are fluent in English. Effective communication is a priority, ensuring that patients can express their concerns and understand the details of their dental veneer treatment.
4. Q: How long does the teeth veneer procedure take in Mexico?
A: The duration of the dental veneer procedure in Mexico depends on factors such as the number of veneers and the complexity of the case. Generally, it takes between one to two weeks from the initial consultation to the final placement of the veneers.
5. Q: Are there any hidden costs in teeth veneer packages in Mexico?
A: Reputable dental clinics in Mexico are transparent about costs. However, patients should carefully review package details to ensure they understand what is included and excluded. It's advisable to discuss any potential additional costs, such as travel or accommodation, with the chosen clinic beforehand.
Request a Consultation for Dental Veneers in Mexico at PlacidWay!
Ready to transform your smile with dental veneers in Mexico? Take the first step toward a brighter, more confident you by booking your consultation through PlacidWay Medical Tourism. Benefit from world-class dental care, experienced professionals, and the allure of Mexico's beauty—all at an affordable cost. Contact PlacidWay today to embark on your journey to a stunning and radiant smile!