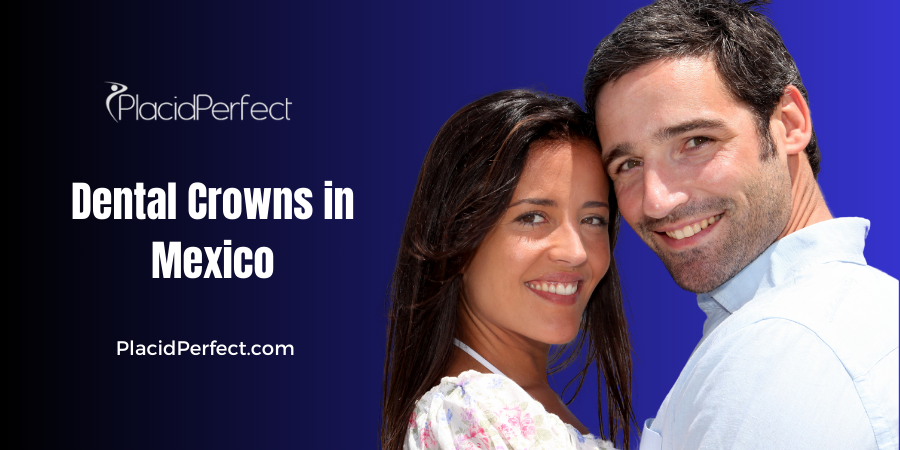 Dental Crowns in Mexico – Best Solution for Decayed Teeth
Dental crowns, a popular restorative dental treatment, play a crucial role in enhancing the appearance and functionality of damaged or decayed teeth. With the rising costs of dental treatments in many developed countries, an increasing number of individuals are exploring alternative options, and Mexico has emerged as a prominent destination for dental procedures. The combination of skilled professionals, state-of-the-art facilities, and cost-effective solutions has made Mexico a sought-after location for dental treatments, attracting patients from around the world.
Overview of the Dental Crowns
Dental crown procedures in Mexico involve the restoration of damaged or decayed teeth using customized caps that mimic the appearance and function of natural teeth. The process typically includes an initial consultation, tooth preparation, crown fabrication, and final placement. The use of advanced materials and techniques ensures durable and aesthetically pleasing results.
Cost of Dental Crowns in Mexico
When it comes to the cost of dental crowns in Mexico, patients can expect significant savings compared to prices in their home countries. The exact cost may vary based on factors such as the type of crown, materials used, and the complexity of the procedure. Generally, the savings can be substantial, making dental treatments in Mexico an appealing option for those seeking quality care without breaking the bank.
| | |
| --- | --- |
| Provider | Cost in USD |
| Dentaris Cancun Riviera Maya Dentistry | $567 |
| Sani Dental Group | $210 |
| NEO Dental Group | $522 |
| DDS Cinthya Garcia | $250 |
| Costamed Medical Group | $209 |
Note: price may change and vary depends on complexity of procedures and patient conditions.
Dental Crowns Packages Inclusions
Consultation Fees: All-inclusive packages often cover the initial consultation with the dentist, allowing patients to discuss their concerns, understand the recommended treatment plan, and address any questions they may have.
Procedure Costs: The total cost of the dental crown procedure, including materials and labor, is typically included in these packages. This transparency helps patients budget effectively without unexpected expenses.
Post-Operative Care: Comprehensive packages often encompass post-operative care, ensuring that patients receive the necessary follow-up appointments, medications, and guidance for a smooth recovery process.
Accommodation Assistance: Some packages may include assistance with accommodation arrangements, making it convenient for patients traveling from abroad to focus on their treatment without the added stress of finding suitable lodging.
Transportation Support: In certain cases, clinics may offer transportation support, facilitating seamless travel between the accommodation, clinic, and other essential locations.
Dental Crowns Packages Exclusions
Travel Expenses: While some packages may cover transportation support within the destination city, travel expenses to and from Mexico are typically excluded. Patients should budget for flights, visas, and any additional travel-related costs.
Additional Procedures: If additional dental procedures or treatments are recommended during the consultation or become necessary during the process, these may be excluded from the package and billed separately.
Accommodation Costs: While accommodation assistance may be included, the actual cost of lodging is often excluded from the package. Patients should clarify whether this is covered or budget accordingly.
Meals and Personal Expenses: Personal expenses such as meals, entertainment, and other non-medical costs are generally not included in the package. Patients should plan for these additional expenses during their stay.
Insurance Coverage: Insurance coverage, if applicable, is typically excluded from dental packages. Patients are advised to check with their insurance providers regarding reimbursement or coverage for dental treatments abroad.
Dental Crowns Pre-Op Tests
Dental X-Rays: X-rays provide a detailed view of the teeth and surrounding structures, helping dentists assess the extent of damage and plan the appropriate course of action.
Oral Health Assessment: A comprehensive examination of oral health, including a review of the patient's dental history, helps dentists identify any underlying issues that may impact the dental crown procedure.
Impressions and Models: Creating impressions and models of the teeth ensures the accurate fabrication of custom dental crowns, providing a precise fit and optimal functionality.
Periodontal Examination: Dentists conduct a thorough examination of the gums to assess their health and determine if any periodontal treatment is required before proceeding with the dental crown procedure.
Blood Tests: In some cases, blood tests may be necessary to ensure the patient's overall health and identify any conditions that may affect the dental treatment or recovery process.
Benefits of Choosing Teeth Crowns in Mexico
Cost-Effective Solutions: One of the primary reasons individuals opt for dental treatments in Mexico is the significant cost savings. The overall expenses, including consultation, procedures, and follow-up appointments, are notably lower than in many developed countries. This affordability allows patients to receive high-quality care without compromising on the quality of materials or expertise.
Skilled Dental Professionals: Mexico boasts a pool of highly qualified and experienced dental professionals who are well-versed in the latest dental techniques and technologies. Many dentists in Mexico have received international training and certifications, ensuring that patients receive world-class dental care.
State-of-the-Art Facilities: Dental clinics in Mexico are equipped with modern, state-of-the-art facilities that meet or even exceed international standards. The advanced technology and equipment used in these clinics contribute to accurate diagnostics, efficient treatments, and overall patient satisfaction.
Short Waiting Times: Unlike some countries where getting a dental appointment can take weeks or even months, Mexico offers shorter waiting times. This allows patients to receive timely care, addressing their dental issues promptly and preventing the escalation of problems.
Beautiful Tourist Destinations: Combining dental treatment with a vacation is an attractive option for many patients. Mexico's diverse landscapes and vibrant culture provide an excellent backdrop for a relaxing and enjoyable trip. Patients can undergo their dental procedures and then explore the rich history, picturesque beaches, and culinary delights that Mexico has to offer.
Top Dental Clinics in Mexico in Mexico for Dental Crowns
Mexico boasts a myriad of reputable dental clinics offering a range of services, including dental crown procedures. These clinics uphold high standards of care, employing skilled professionals and utilizing advanced technology to ensure optimal results. Patients can choose from various clinics, each with its unique strengths, ensuring they find the one that best suits their needs.
Cost-Effective Dental Crowns Packages in Mexico
Many dental clinics in Mexico offer comprehensive packages that include various aspects of the treatment process. These packages often cover consultation fees, the cost of the procedure, post-operative care, and sometimes even accommodation and transportation. These all-inclusive packages provide patients with convenience and transparency regarding the total expenses associated with their dental crown treatment.
Top Dentists in Mexico
Dental care in Mexico is administered by a talented and diverse group of doctors, many of whom have received international recognition for their expertise. These professionals bring a wealth of experience and knowledge to the table, ensuring patients receive top-notch care and achieve optimal outcomes.
Is Dental Crowns Right for You?
Affordability: If you are seeking cost-effective dental solutions without compromising quality, dental treatment in Mexico may be an excellent option.
Quality of Care: Mexico's dental professionals adhere to international standards of care, ensuring that patients receive high-quality treatments using advanced technology and materials.
Desire for a Combined Experience: If the idea of combining dental treatment with a vacation appeals to you, Mexico's beautiful tourist destinations make it an attractive choice.
Time Considerations: Patients looking for shorter waiting times and timely access to dental care may find that Mexico offers a more efficient and convenient option.
Research and Consultation: Before making a decision, thorough research and consultation with dental professionals in Mexico can help you assess whether this option aligns with your specific needs and expectations.
Before and After Results of Dental Crowns in Mexico
Dental crown procedures in Mexico have provided countless patients with remarkable before-and-after results. These transformations showcase not only the aesthetic improvements but also the restoration of functionality and oral health. Patients can expect durable and natural-looking crowns that blend seamlessly with their existing teeth, enhancing both their smile and overall quality of life.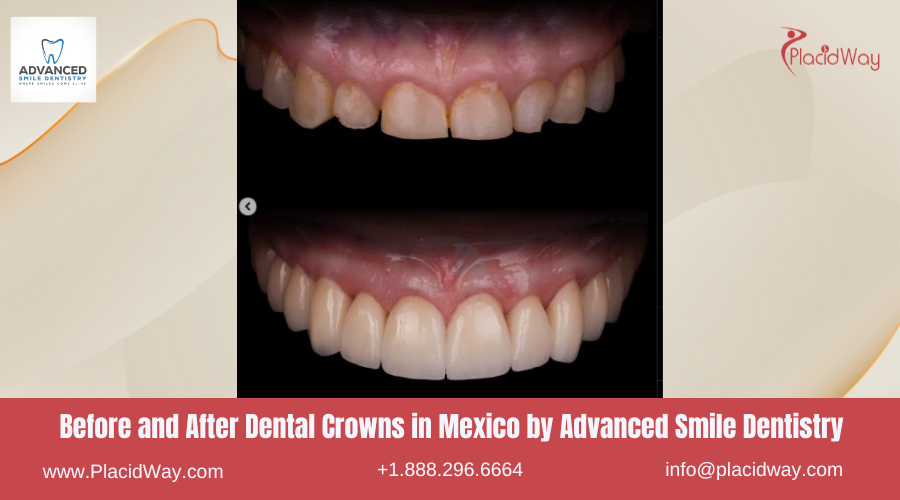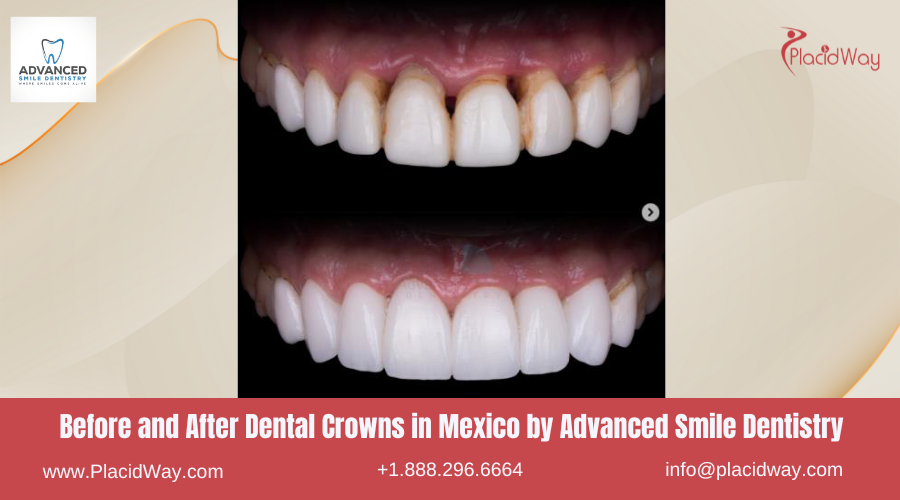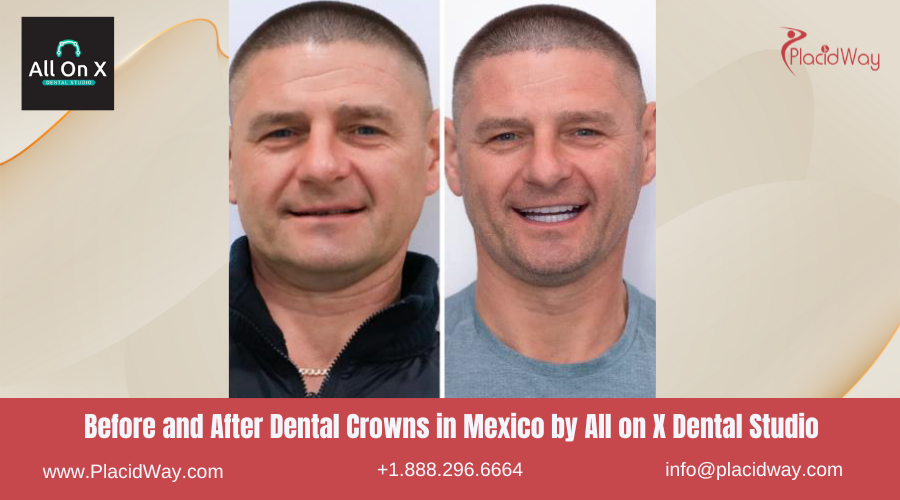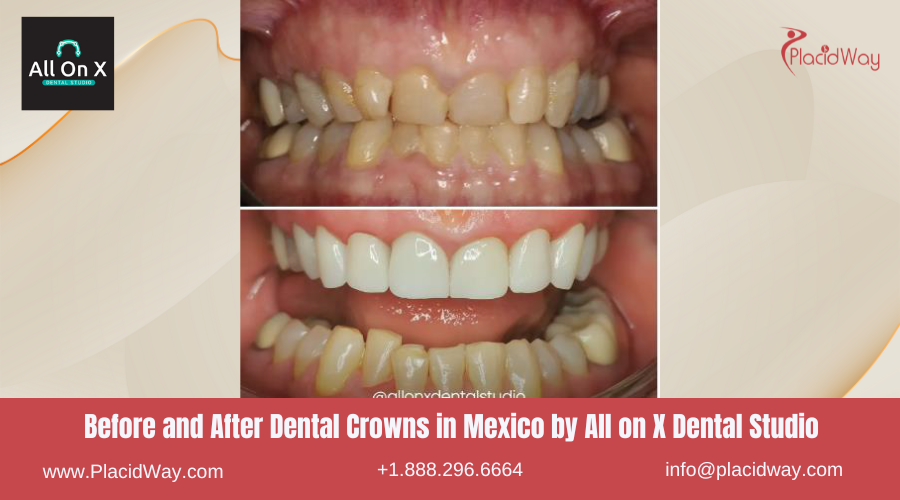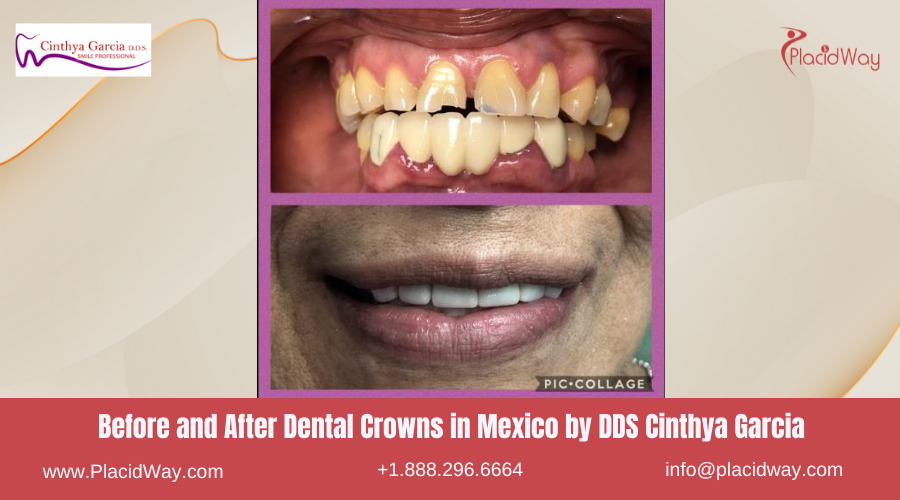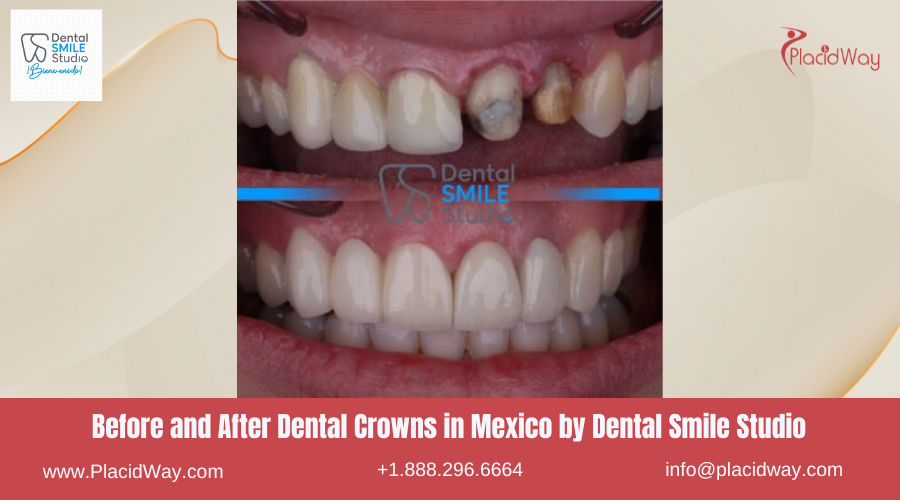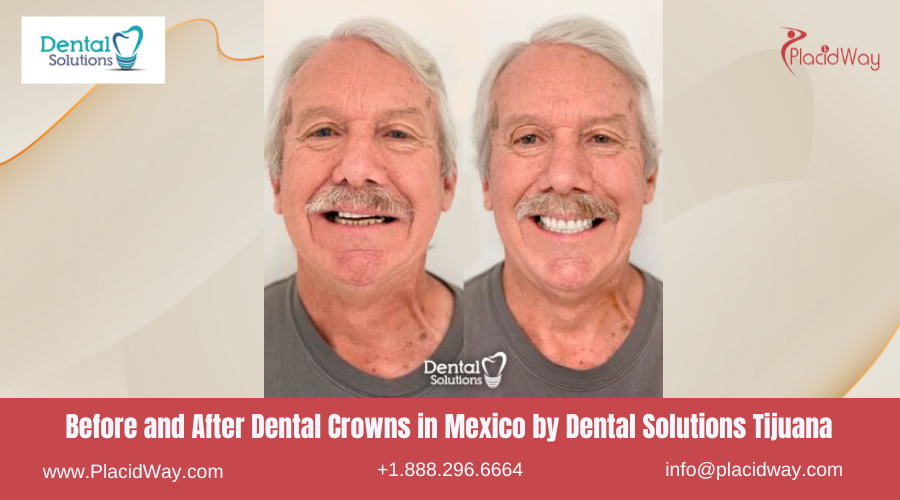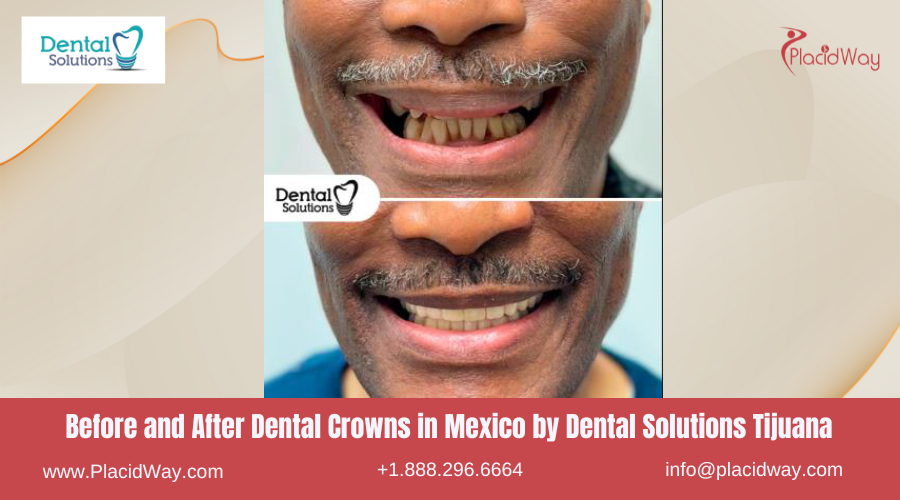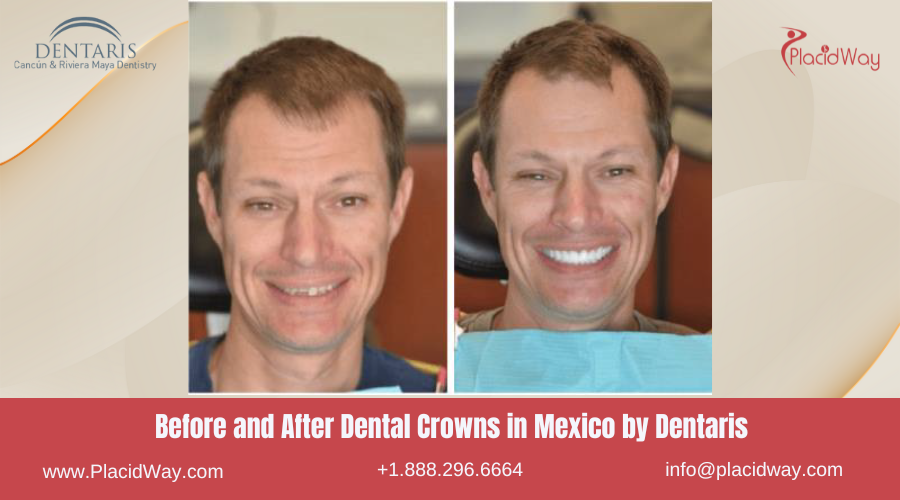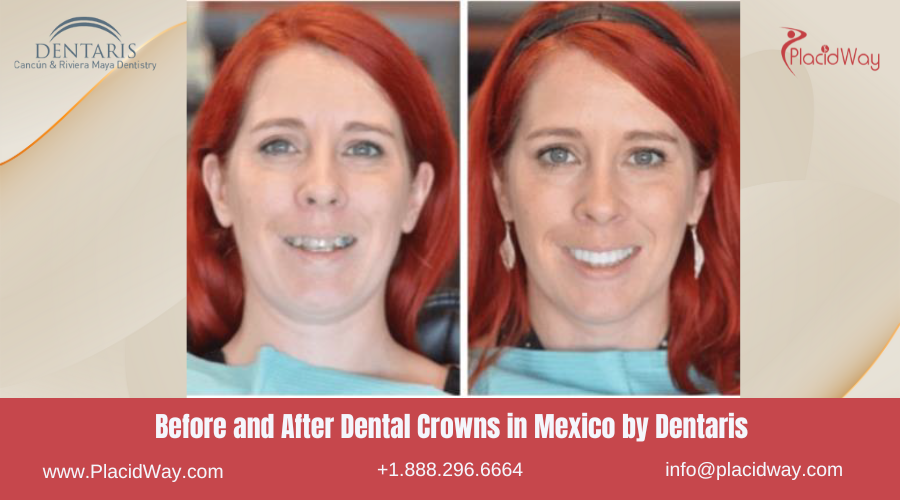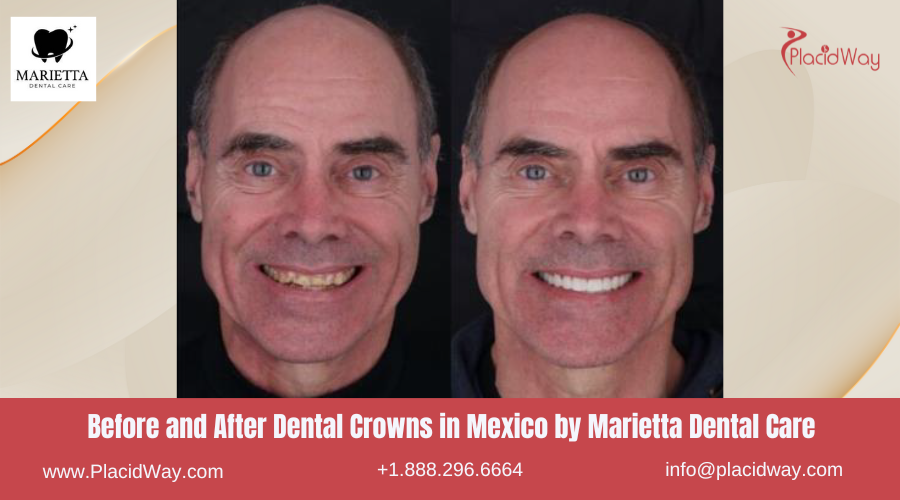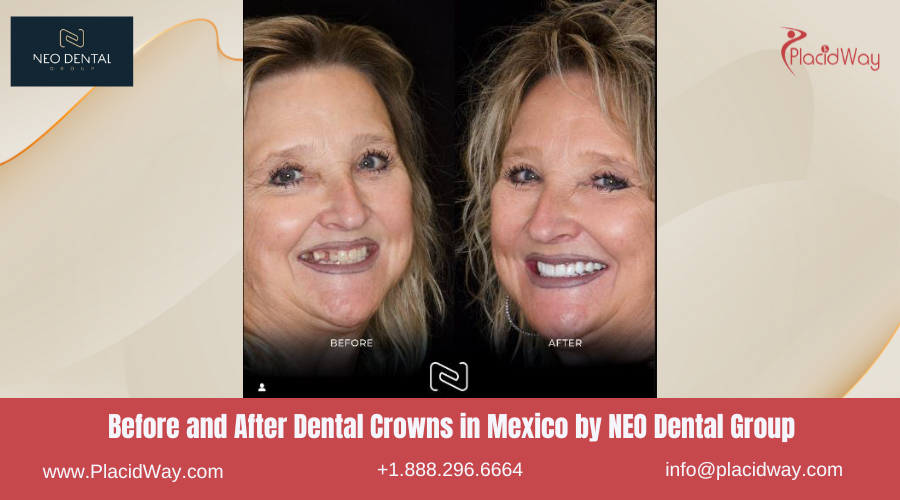 What to Expect During Dental Crowns in Mexico
Consultation: The process begins with a thorough consultation where the dentist assesses the patient's oral health, discusses treatment options, and outlines the proposed plan for the dental crown procedure.
Tooth Preparation: During the procedure, the dentist prepares the affected tooth by removing any decayed or damaged portions and shaping it to accommodate the dental crown.
Impressions: Detailed impressions of the prepared tooth are taken to ensure the fabrication of a custom-fit crown that aligns perfectly with the patient's natural dentition.
Temporary Crown Placement: In some cases, a temporary crown may be placed to protect the prepared tooth while the permanent crown is being fabricated in the dental laboratory.
Final Placement: Once the permanent crown is ready, the patient returns for the final placement. The dentist ensures proper fit, bite alignment, and aesthetic harmony before securing the crown in place.
FAQs (Frequently Asked Questions)
1. What types of dental crowns are commonly offered in Mexico?
In Mexico, dental clinics typically offer a range of crown options, including porcelain, ceramic, metal, and zirconia crowns. The choice depends on factors such as aesthetics, durability, and the specific needs of the patient.
2. How much can I save by getting dental crowns in Mexico compared to my home country?
The cost savings for dental crowns in Mexico can be substantial, often ranging from 40% to 70% less than the prices in many developed countries. This affordability is a key factor attracting international patients.
3. Are the dental professionals in Mexico well-qualified?
Yes, dental professionals in Mexico are highly qualified, often with international training and certifications. Many clinics employ dentists who stay updated on the latest advancements in dental care, ensuring patients receive top-notch treatment.
4. How long does the dental crown procedure usually take in Mexico?
The duration of the dental crown procedure varies depending on factors such as the type of crown, the complexity of the case, and the clinic's workflow. On average, patients can expect the process to take a few days to a couple of weeks.
5. Is it safe to travel to Mexico for dental treatment?
Yes, it is generally safe to travel to Mexico for dental treatment. Reputable dental clinics adhere to international standards, and many destinations in Mexico are popular among medical tourists. However, it's essential to research and choose a well-established clinic for a positive experience.
Get FREE CONSULTATION for Dental Crowns in Mexico at PlacidWay!
Ready to revitalize your smile with teeth crowns in Mexico? Take the first step towards optimal oral health and aesthetic enhancement by booking your consultation at PlacidWay Medical Tourism. Our experienced team is committed to guiding you through the diverse dental crown options available in Mexico, ensuring you make an informed decision tailored to your unique needs. Embark on a journey to a healthier and more vibrant smile with PlacidWay – your trusted partner in accessing world-class dental care. Schedule your consultation today and discover the cost-effective and high-quality solutions that await you in Mexico.