Dental Implants in Mexico – Transform Your Smile
Dental implants have become a popular and effective solution for individuals seeking to restore their smiles and oral functionality. In recent years, Mexico has emerged as a leading destination for dental treatments, attracting people from around the world. The combination of affordable prices, skilled professionals, and modern facilities has made Mexico a go-to choice for those in need of dental implant procedures. The decision to undergo dental implant treatment is a significant one, and choosing the right location for the procedure is equally crucial. Mexico, with its rich cultural heritage and advanced medical facilities, offers a compelling option for individuals seeking high-quality dental care.
Overview of Dental Implants in Mexico
Dental implant procedures in Mexico generally follow a well-defined process. This involves an initial consultation, diagnostic imaging, implant placement surgery, and the attachment of the prosthetic tooth. The entire process is carefully planned and executed to ensure optimal results and patient satisfaction.
Cost of Dental Implants in Mexico
In general, dental implant procedure prices in Mexico are significantly lower compared to many Western countries. The cost includes the implant itself, the surgical procedure, and the placement of the prosthetic tooth. Prices may vary depending on the complexity of the case, the type of implant used, and the clinic's location. Despite the lower cost, patients can expect high-quality materials and professional expertise, making Mexico a cost-effective choice for dental implant treatments.
| | |
| --- | --- |
| Provider | Cost in USD |
| Dentaris Cancun Riviera Maya Dentistry | $890 |
| Sani Dental Group | $700 |
| Marietta Dental Care | $780 |
| NEO Dental Group | $1,045 |
| DDS Cinthya Garcia | $1,380 |
| Costamed Medical Group | $1,860 |
Note: price may change and vary depends on complexity of procedures and patient conditions.
Dental Implants Packages Inclusions
Implant Procedure: This includes the cost of the dental implant itself, along with the surgical procedure required for placement.
Diagnostic Imaging: The package often covers the cost of diagnostic tools such as X-rays and CT scans necessary for precise planning.
Post-Operative Care: Patients can expect follow-up appointments and care as part of the package, ensuring proper healing and recovery.
Accommodation: Some packages may include accommodation options for patients who travel to Mexico for their dental implant treatment.
Transportation Services: Certain packages may offer transportation services, facilitating seamless travel between accommodation and the dental clinic.
Dental Implants Packages Exclusions
International Travel Costs: Packages typically do not cover the expenses associated with international travel to and from Mexico.
Meals and Personal Expenses: Patients are responsible for their meals and personal expenses during their stay in Mexico.
Additional Dental Treatments: If additional dental treatments are required, they may not be included in the standard package and will incur extra costs.
Tourist Activities: Costs related to tourist activities or excursions are generally not included in the dental implant packages.
Complications and Revisions: In the event of complications or the need for revisions, additional costs may be incurred, and these are usually not covered by the standard package.
Dental Implants Pre-Op Tests
X-rays: Diagnostic X-rays provide detailed images of the jawbone and surrounding structures, aiding in treatment planning.
CT Scan: A CT scan may be recommended for a more comprehensive view of the oral and facial anatomy.
Blood Tests: Blood tests help assess overall health and identify any potential complications before the procedure.
Dental Impressions: Creating impressions of the teeth allows for the customization of the prosthetic tooth for a perfect fit.
Oral Health Assessment: A thorough examination of the patient's oral health helps determine the feasibility and success of the dental implant procedure.
Top 5 Reasons of Choosing Dental Implants in Mexico
Cost-Effective Solutions: One of the primary reasons individuals opt for dental implant treatment in Mexico is the cost advantage. Compared to many Western countries, Mexico offers significantly lower prices for dental procedures, making it an attractive option for those on a budget.
Experienced and Qualified Professionals: Mexican dental clinics boast a pool of experienced and highly qualified professionals. Many dentists in Mexico have received international training and accreditation, ensuring that patients receive top-notch care and expertise.
State-of-the-Art Facilities: Dental clinics in Mexico are equipped with modern and advanced technology, ensuring that patients have access to cutting-edge treatments and procedures. The facilities adhere to international standards, providing a safe and comfortable environment for dental implant treatments.
Tourist-Friendly Locations: Many dental clinics in Mexico are situated in tourist-friendly locations, allowing patients to combine their dental treatment with a relaxing vacation. This unique blend of dental care and tourism has contributed to Mexico's popularity as a dental tourism destination.
Quick Access to Treatment: Unlike in some countries where wait times for dental procedures can be extended, Mexico offers quick access to dental implant treatments. This is particularly advantageous for individuals seeking prompt solutions for their dental issues.
Top Dental Clinics in Mexico for Dental Implants
Mexico is home to numerous reputable dental clinics that specialize in implant procedures. These clinics maintain high standards of care, employing skilled professionals and utilizing state-of-the-art facilities. While it's essential to research and select a clinic that meets individual needs, the diverse options available in Mexico ensure that patients can find a clinic that aligns with their preferences and requirements.
All Inclusive Dental Implants Packages in Mexico
Dental clinics in Mexico often offer a variety of packages catering to different patient needs. These packages may include various services such as accommodation, transportation, and post-operative care. The diversity of packages allows patients to choose the one that best suits their preferences and budget, providing a comprehensive and convenient solution for dental implant treatments.
Board Certified Dentists in Mexico
Selecting the right doctor for a dental implant procedure is crucial for a successful outcome. Patients should consider factors such as the doctor's experience, qualifications, and patient reviews when making their decision. Many dental professionals in Mexico have received international recognition, providing patients with confidence in the quality of care they will receive.
Is Dental Implants Right for You?
Before making a decision, consider the following:
Overall Health: Ensure that your general health is suitable for the dental implant procedure.
Commitment to Aftercare: Dental implants require proper aftercare for long-term success. Ensure you can commit to follow-up appointments and care instructions.
Financial Considerations: Assess your budget and compare the cost of treatment in Mexico with your home country.
Before and After Results of Dental Implants in Mexico
Dental implant procedures can yield remarkable before-and-after results, restoring both aesthetics and functionality. Before the treatment, patients may experience issues such as missing teeth or discomfort. After the procedure, the implant provides a natural-looking and durable solution, enhancing the overall appearance and function of the patient's smile.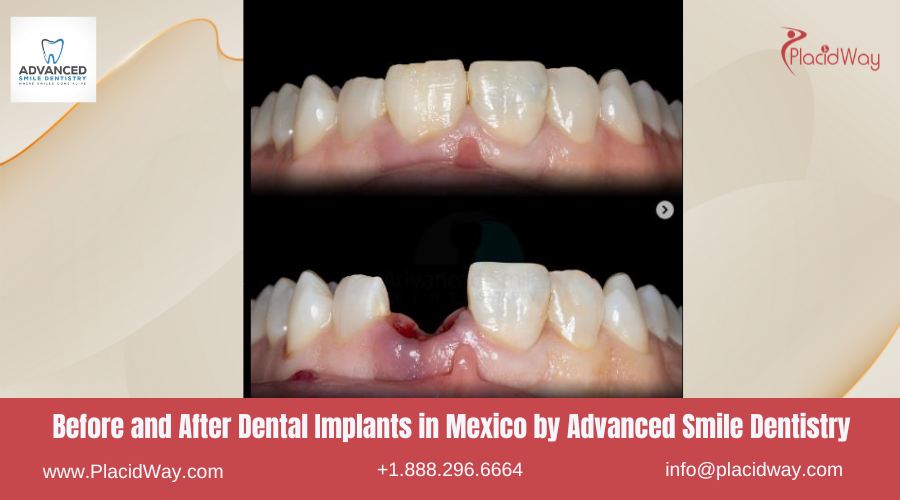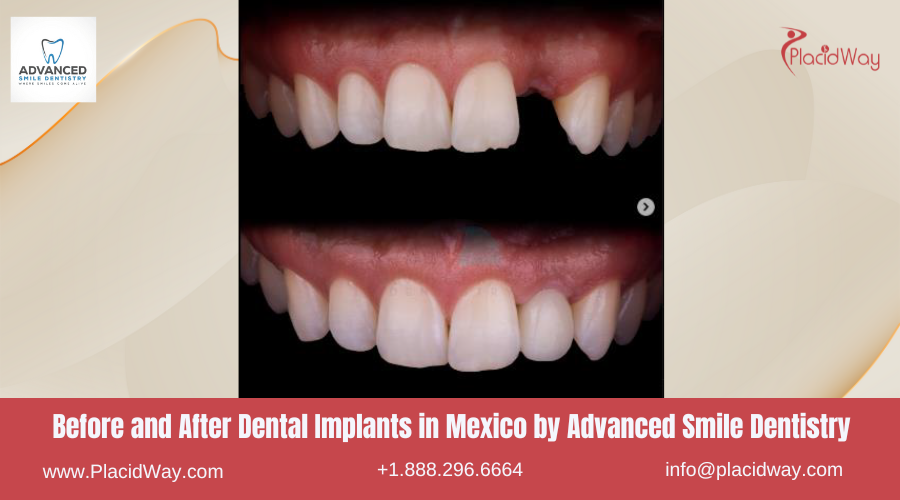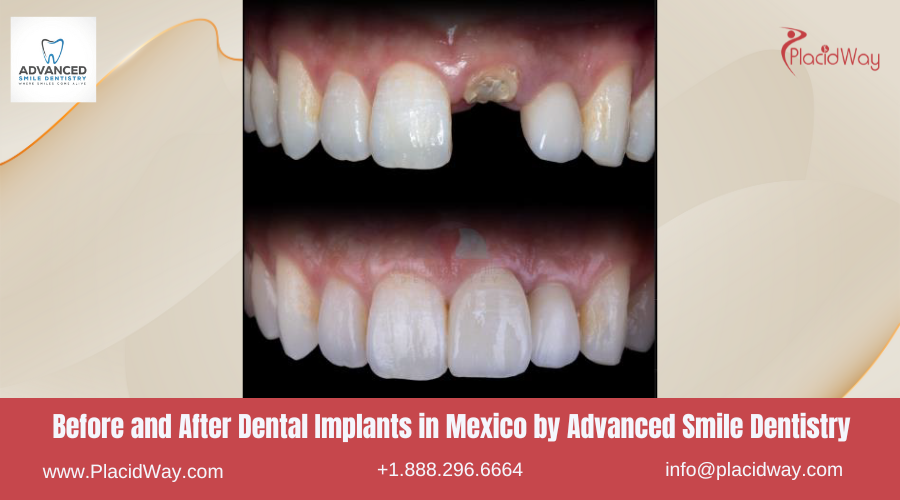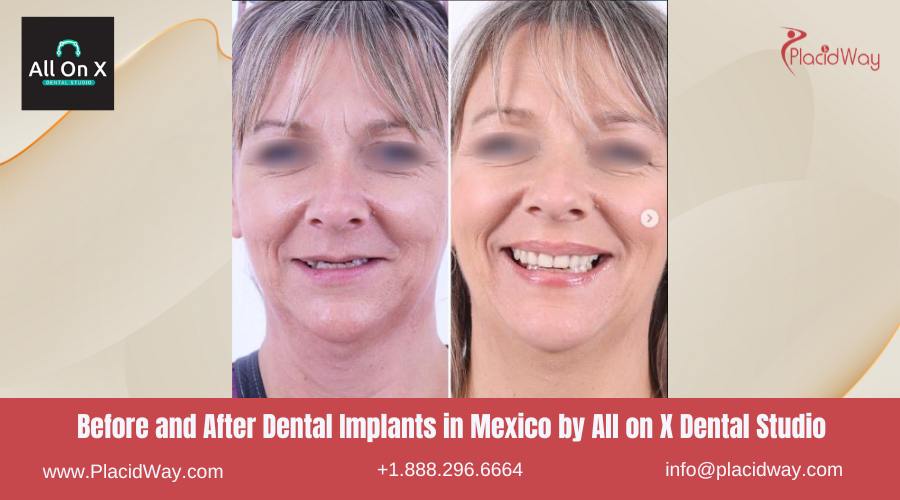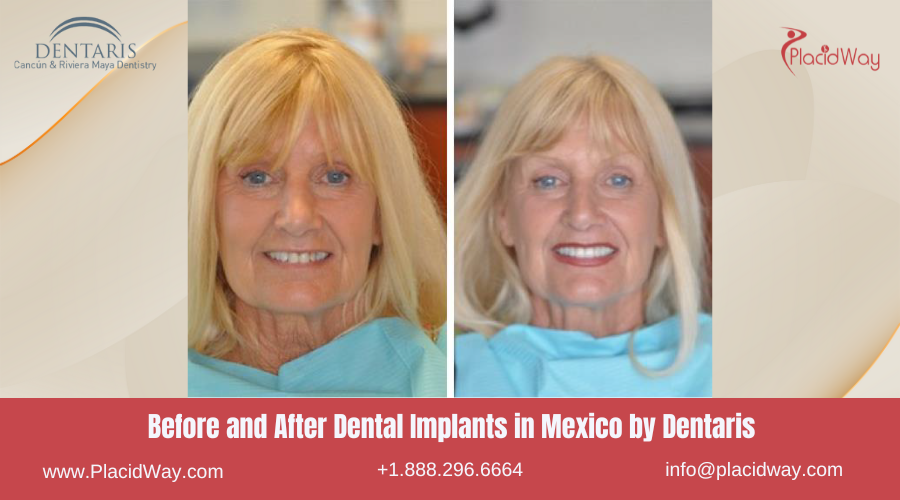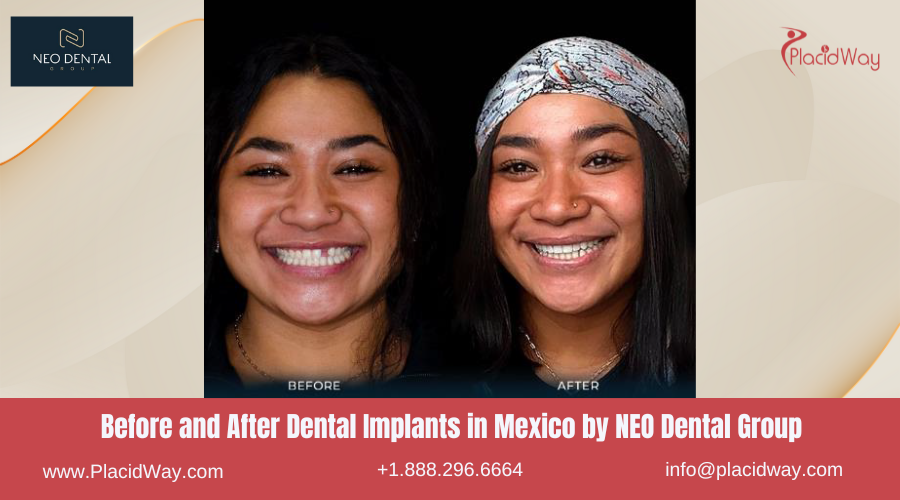 What to Expect During the Dental Implants Procedure
Initial Consultation: Discuss your oral health, treatment options, and expectations with the dentist.
Diagnostic Imaging: Undergo X-rays and possibly a CT scan for precise treatment planning.
Implant Placement: The surgical procedure involves placing the implant into the jawbone.
Healing Period: Allow time for the implant to fuse with the jawbone during the healing phase.
Prosthetic Attachment: Once healed, the prosthetic tooth is attached to the implant for a complete restoration.
FAQs (Frequently Asked Questions)
1. Are dental implants in Mexico of the same quality as those in my home country?
Answer: Yes, dental implants in Mexico adhere to international standards. Many dental professionals in Mexico receive international training and use high-quality materials, ensuring comparable quality to treatments in other countries.
2. How much can I save by opting for dental implants in Mexico?
Answer: The cost savings for dental implants in Mexico can be substantial, often ranging from 40% to 70% compared to prices in Western countries. This affordability, coupled with quality care, makes Mexico an attractive option for dental tourism.
3. Is it safe to undergo dental implant procedures in Mexico?
Answer: Yes, dental implant procedures in Mexico are safe. Reputable clinics follow strict hygiene and safety protocols, and many dentists have international accreditation. It's essential to choose a well-established clinic with positive reviews to ensure a safe and successful experience.
4. How long does the entire dental implant process take in Mexico?
Answer: The duration varies, but on average, the entire dental implant process, including healing, takes about 3 to 6 months. The initial consultation and diagnostic phase are followed by the surgical placement of the implant, a healing period, and finally, the attachment of the prosthetic tooth.
5. Will I need to make multiple trips to Mexico for the complete dental implant treatment?
Answer: In most cases, two trips are sufficient. The first trip involves the initial consultation, diagnostic imaging, and implant placement surgery. After a healing period, which can be done in your home country, the second trip is for attaching the prosthetic tooth. Some cases may require additional visits for follow-up appointments.
Get FREE QUOTE for Dental Implants in Mexico at PlacidWay!
Ready to transform your smile with dental implants in Mexico? Book your consultation today with PlacidWay Medical Tourism. Our team of professionals is dedicated to providing you with a seamless and rewarding dental implant experience. Contact us to embark on your journey to a brighter, healthier smile.