Best All on 6 Dental Implant Package in Puerto Vallarta, Mexico
The process of supported a complete arch of teeth with six implants is termed as All on 6 Dental Implants. The procedure is suitable for either lower or upper jaw for supporting immediate fixed replacement teeth that function, feel and look like natural teeth.
After the initial dental examination and assessment, you are generally advised about the best suitable treatment option. If you want to opt for implant replacement for all your upper jaw teeth, all on 6 procedure can help to make sure that the implant teeth gets good support and durability.
Where to Get All on 6 Dental Implant?
There are several state-of-the-art dentistry clinics in Puerto Vallarta, Mexico. So, you will have plenty of choices to find the best centers for dental implants in Puerto Vallarta is emerging as a leading giant in the medical tourism industry. Thus, you can find many clinics and qualified doctors providing the best of dental implant.
What are the Advantages of Dental Implants in Puerto Vallarta, Mexico?
Affordable price
Trained and certified dentists
High-quality implants
Improved appearance
Makes eating easier
Improved speech
Improved self-esteem
Improved oral health
Lasting improvement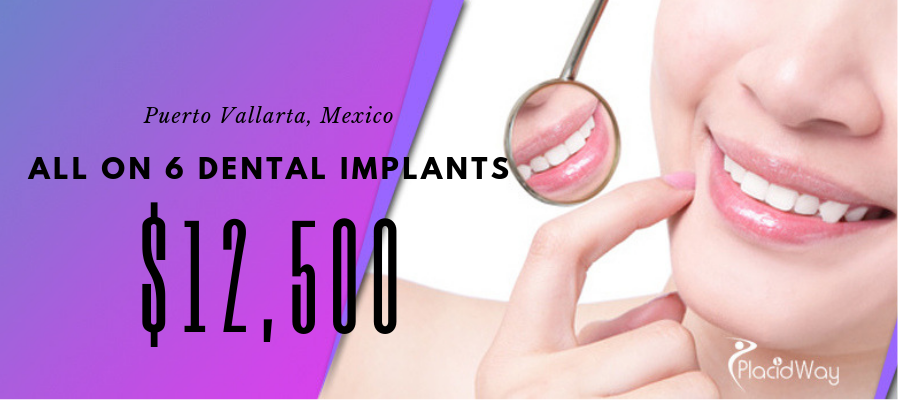 What is the Cost of All on 6 Dental Implants in Puerto Vallarta, Mexico?
The cost of all on 6 dental implants package in Puerto Vallarta starts from $220,000 pesos, which is $12,500 approximately. The price doesn't include extractions or bone graft.
If you need extractions, bone graft or membrane those will be charged separately. Most of the patients want to do it under I.V. Sedation that is an approx cost of $16,000 pesos approx $777 USD .depends on the patient condition and the Specialist will Determinate if less.
Price Inclusions
Pre and post-operative consultations
All clinic fees
All medical fees and doctor fees
Exclusions
Hotel or recovery house
Preoperative lab work
Airfare
Lab Tests
Dental imaging like x-ray
Dental set up model testing
Teeth scaling or cleaning
Implant testing, etc
How to Reach Puerto Vallarta, Mexico
It is quite easy to get in Puerto Vallarta, Mexico, as the city is located at the junction of all major highways and railways connecting the country with the rest of the world.   Puerto Vallarta is a resort town on Mexico's Pacific coast, in Jalisco state. Puerto Vallarta International Airport is connected with all major cities across the world.
 Contact us now to get a free quote for all on 6 Dental Implants in Puerto Vallarta, Mexico!