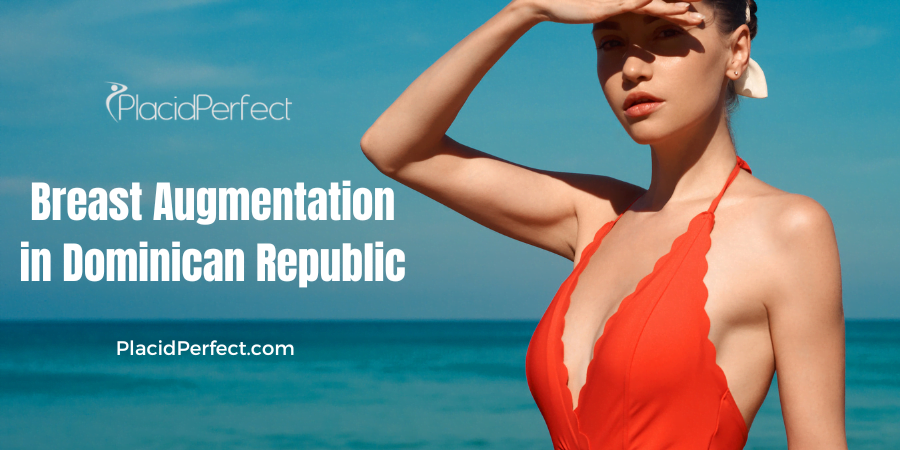 Enhancing Feminine Form through Breast Augmentation in Dominican Republic
Breast augmentation, a popular cosmetic procedure aimed at enhancing the size and shape of the breasts, has become an increasingly sought-after treatment for individuals looking to improve their self-confidence and body image. The Dominican Republic has emerged as a premier destination for individuals seeking top-notch breast augmentation procedures in a beautiful and culturally rich setting. With its combination of skilled medical professionals, state-of-the-art facilities, and affordable packages, the Dominican Republic offers a unique opportunity for those considering breast augmentation.
Overview of the Breast Augmentation Procedures
Breast augmentation procedures typically involve the insertion of implants to enhance the size and shape of the breasts. Patients have the option to choose from various implant types, such as saline or silicone, as well as decide on placement and incision techniques. Consultation with a skilled surgeon helps patients determine the most suitable approach for their desired outcome.
Cost of Breast Augmentation in Dominican Republic
When it comes to breast augmentation procedure prices, the Dominican Republic offers competitive rates without compromising on quality. The cost varies based on factors such as the type of implant chosen, the complexity of the procedure, and the clinic's reputation. Generally, patients can expect to find significantly more affordable options compared to many Western countries, making breast augmentation a financially accessible choice.
| | |
| --- | --- |
| Provider | Price in USD |
| Dr. Rafael Mirabal Clinic | $4000 |
| Dra. Silvia Aviles Clinic | $4700 |
| Centro Medico el Vergel | $4900 |
| CIPLA | $4050 |
Note: cost of breast augmentation in Dominican Republic above may change and vary depends on complexity of procedures and patient conditions.
Breast Augmentation Packages Inclusions
Comprehensive Consultation: A detailed discussion with the surgeon to understand patient goals and determine the optimal approach.
Surgical Procedure: The breast augmentation surgery itself, performed by experienced professionals.
Anesthesia and Monitoring: Administration of anesthesia and careful monitoring throughout the procedure to ensure patient safety.
Post-Operative Follow-Up: Regular check-ups during the recovery period to monitor progress and address any concerns.
Supportive Amenities: Many packages include comfortable recovery spaces, nursing care, and assistance with post-operative care.
Breast Augmentation Packages Exclusions
Travel Expenses: Costs associated with travel, including flights and accommodation.
Personal Medications: Medications prescribed for personal use during the recovery period.
Additional Procedures: Any supplementary procedures, if desired, such as breast lifts or additional cosmetic treatments.
Special Garments: Post-operative garments or bras that aid in healing and provide support.
Extended Stay: If needed, the cost of an extended stay beyond what's covered by the package.
Breast Augmentation Surgery Pre-Op Tests
Blood Tests: Ensuring overall health and identifying potential risks before surgery.
Medical History Review: Reviewing the patient's medical history to ensure safe anesthesia and surgery.
Physical Examination: Comprehensive examination to assess the patient's current health status.
Mammogram or Imaging: Obtaining a clear picture of breast tissue to aid in surgical planning.
Cardiac Evaluation: Evaluating the patient's cardiovascular health to determine anesthesia suitability.
Top 5 Reasons of Choosing Breast Augmentation in Dominican Republic
Expertise and Experience: The Dominican Republic boasts a cadre of highly skilled plastic surgeons who specialize in breast augmentation procedures. These professionals have extensive experience and training, ensuring that patients receive the best care possible.
Advanced Facilities: The country's medical facilities are equipped with cutting-edge technology, adhering to international standards of hygiene and safety, thereby ensuring the highest quality of care throughout the breast augmentation journey.
Cost-Effective Packages: One of the most significant advantages of opting for breast augmentation in the Dominican Republic is the cost-effectiveness of the packages. Patients can receive top-tier treatment at a fraction of the cost they might incur in other countries.
Privacy and Recovery: Many clinics in the Dominican Republic offer discreet and comfortable post-operative recovery environments, allowing patients to recuperate in tranquility while enjoying the beauty of the Caribbean.
Combination of Care and Vacation: Choosing breast augmentation in the Dominican Republic enables patients to not only enhance their appearance but also enjoy a relaxing vacation in a tropical paradise, combining medical care with leisure.
Top Plastic Surgery Clinics for Breast Augmentation in Dominican Republic
The Dominican Republic hosts a range of well-respected clinics and medical centers that specialize in breast augmentation. These facilities are known for their adherence to international standards, state-of-the-art equipment, and experienced medical staff. Patients can rest assured that they will receive world-class care throughout their breast augmentation journey.
All Inclusive Packages for Breast Augmentation in Dominican Republic
The Dominican Republic offers a variety of breast augmentation packages tailored to meet the needs and preferences of different patients. These packages typically include the surgical procedure, pre-operative consultations, post-operative follow-ups, and a range of amenities to ensure patients have a comfortable and positive experience. These packages are designed to cater to individual preferences while maintaining the highest medical standards.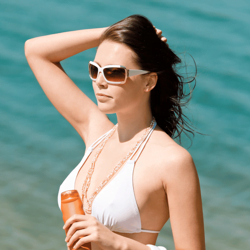 Highly Qualified Breast Augmentation Doctors in Dominican Republic
The country boasts a selection of highly skilled and board-certified plastic surgeons who specialize in breast augmentation procedures. These doctors have garnered recognition for their expertise and dedication to providing exceptional results, further solidifying the Dominican Republic's reputation as a prime destination for breast augmentation.
Is Breast Augmentation Right for You?
Determining if breast augmentation is the right choice for you involves a thoughtful assessment of your personal desires, expectations, and overall health. If you're seeking to enhance the size, shape, or symmetry of your breasts and have realistic goals for the outcome, breast augmentation could be a viable option. Consulting with a qualified plastic surgeon is essential, as they can provide expert guidance based on your unique anatomical considerations and desired results. Additionally, being in good overall health and understanding the recovery process are important factors to consider. Ultimately, making an informed decision that aligns with your goals and well-being is crucial when contemplating breast augmentation.
Breast Augmentation in Dominican Republic Before and After Images
Breast augmentation can lead to remarkable transformations in both appearance and self-confidence. Before-and-after photos of previous patients showcase the potential results, highlighting the improvements in breast symmetry, fullness, and overall proportions.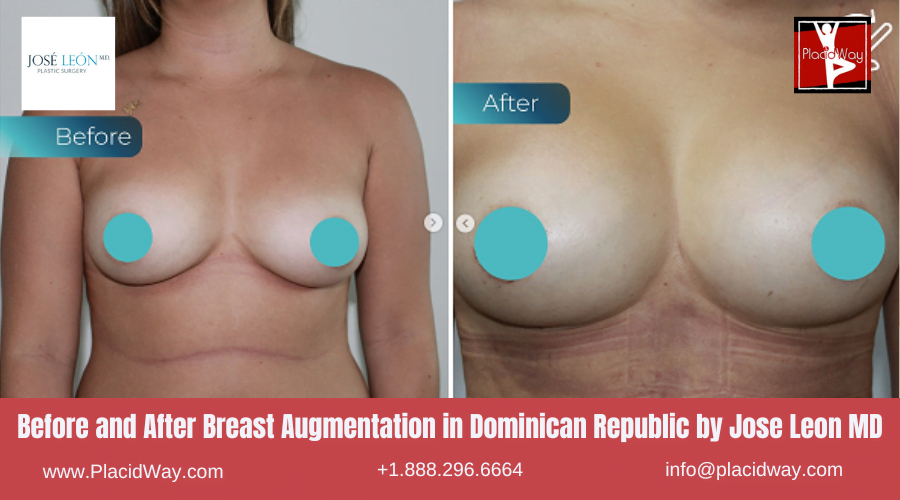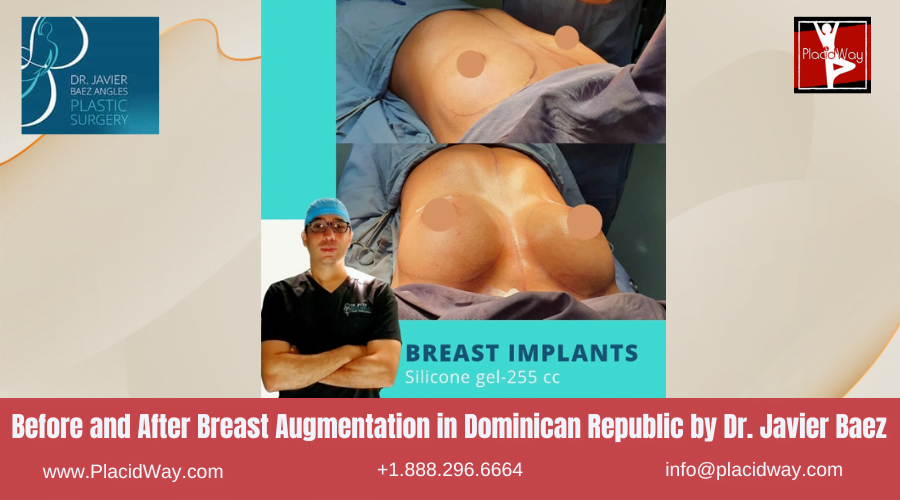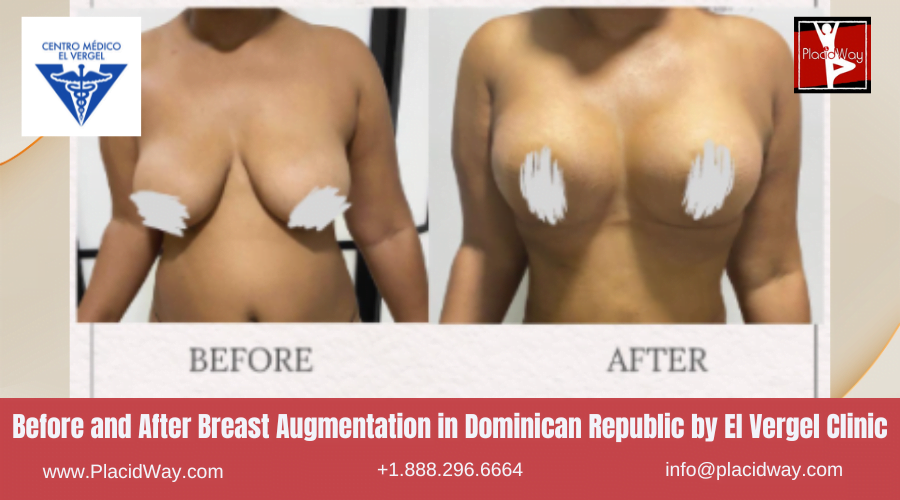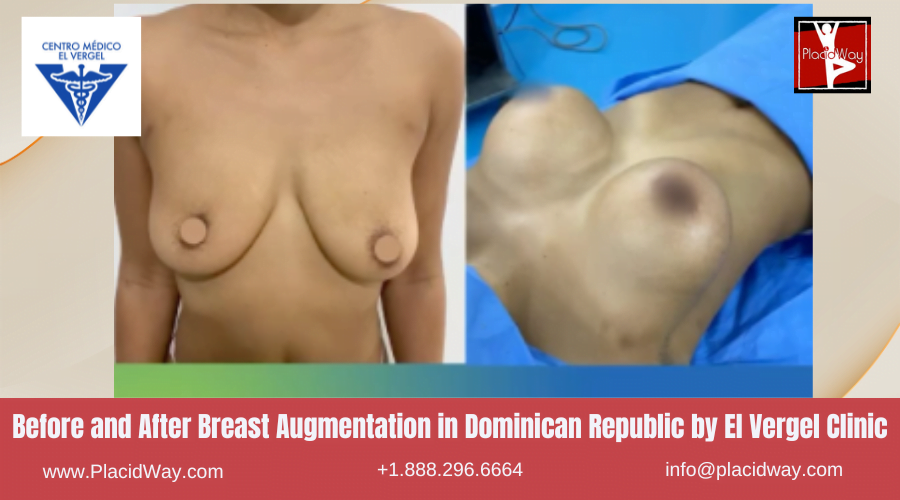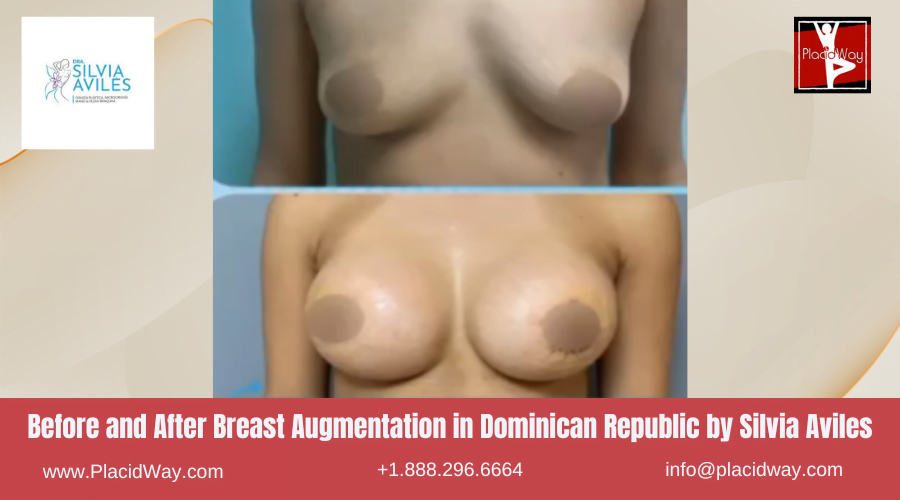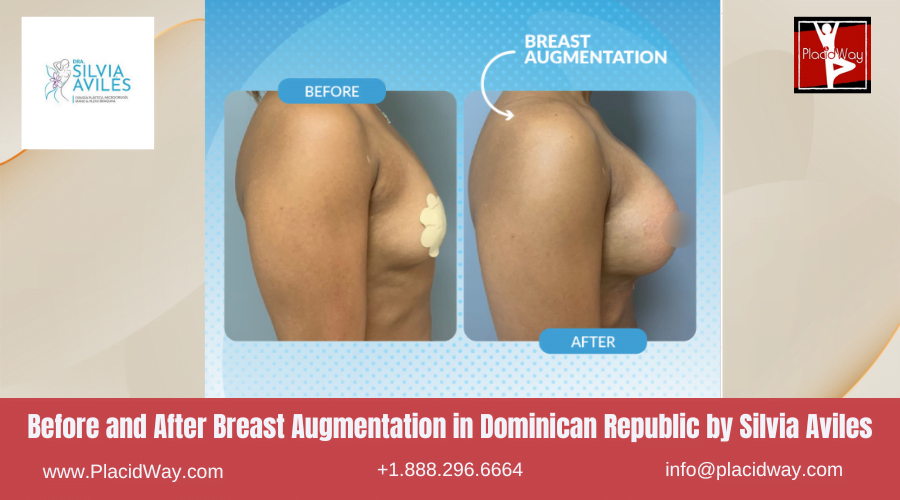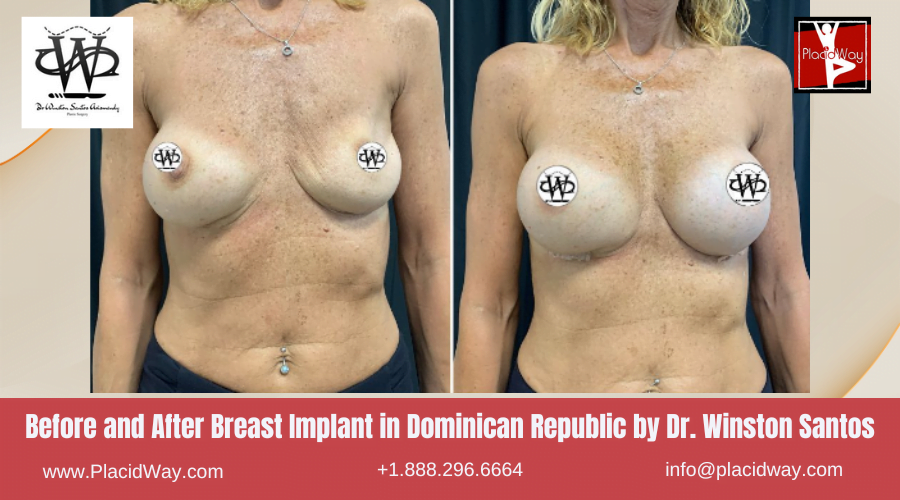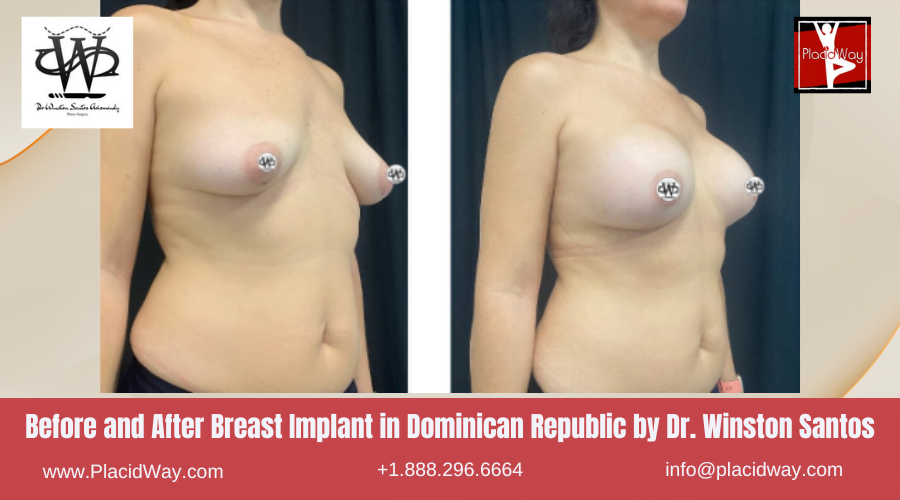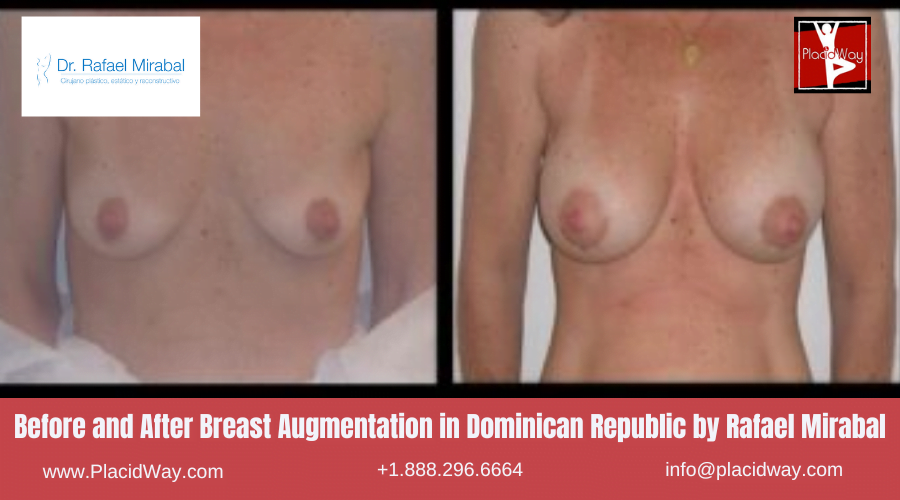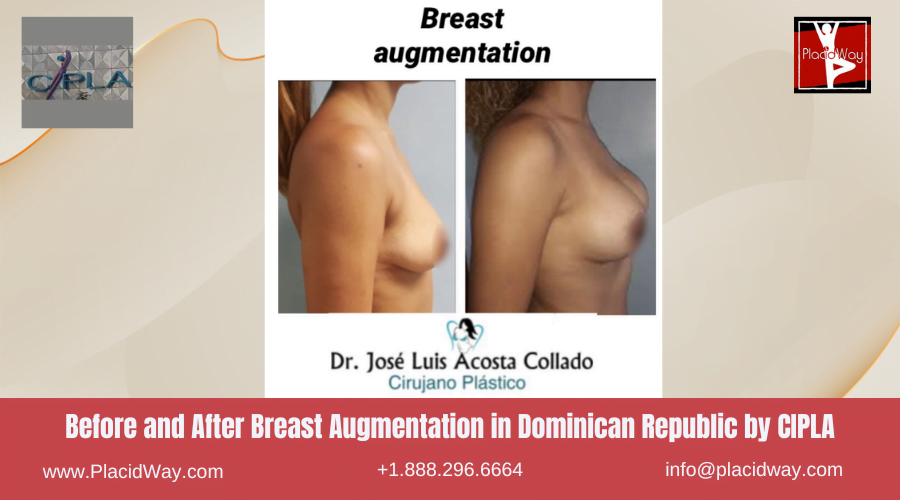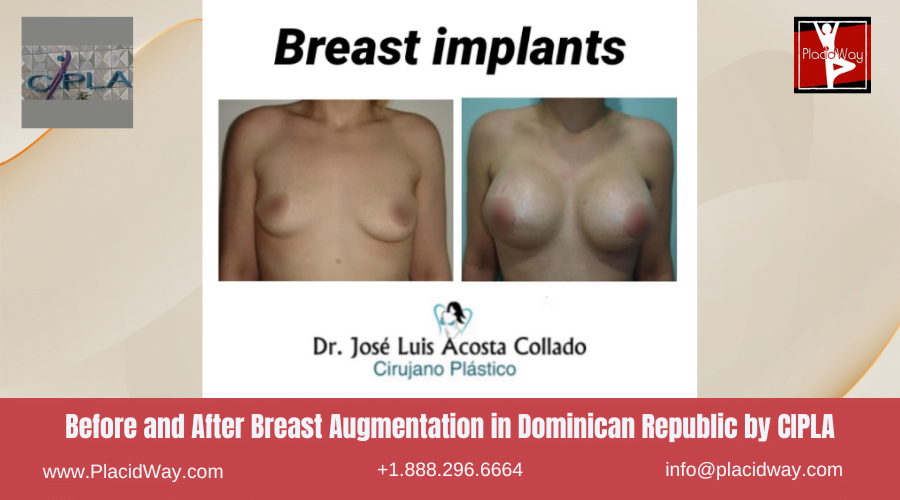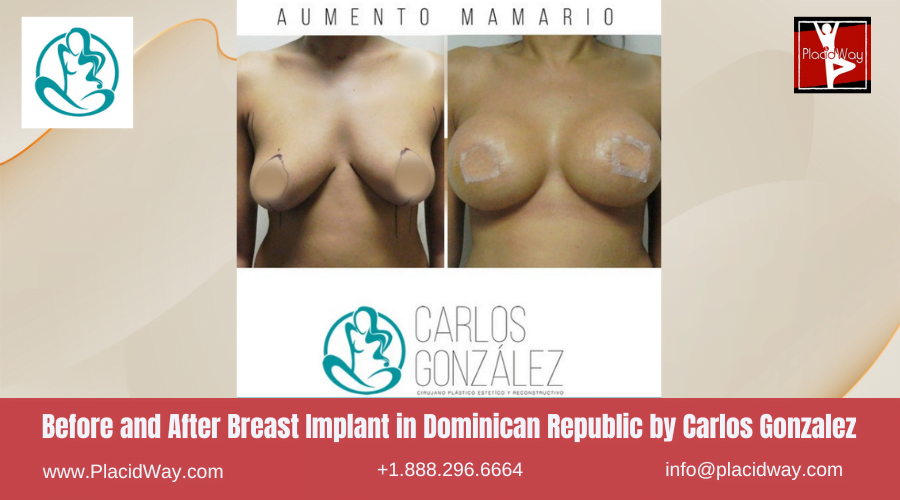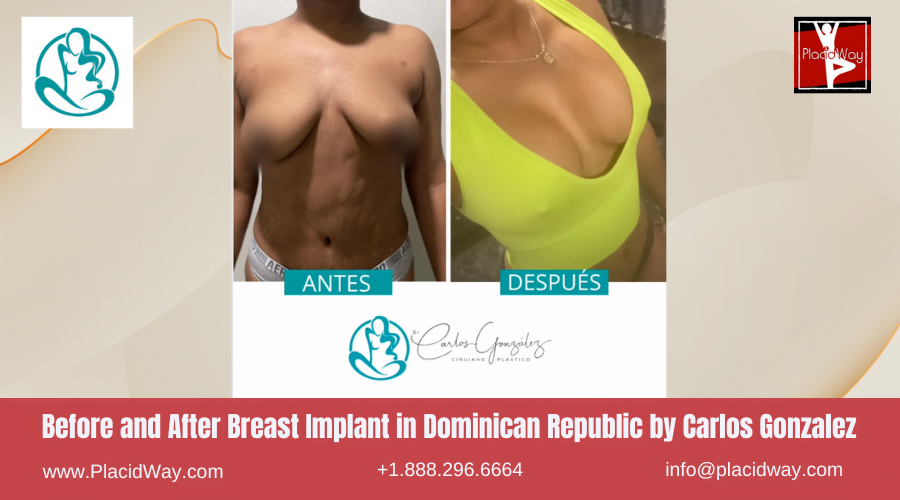 What to Expect During the Breast Augmentation in the Dominican Republic
Pre-operative consultations to discuss goals, expectations, and surgical details.
Surgical procedure under anesthesia, typically lasting a few hours.
Immediate post-operative care and monitoring by medical professionals.
Recovery period involving rest, limited physical activity, and proper wound care.
Follow-up appointments to track progress and address any concerns.
FAQs (Frequently Asked Questions)
1. Is breast augmentation in the Dominican Republic safe?
Absolutely. The Dominican Republic is home to experienced plastic surgeons and modern medical facilities that adhere to international safety standards, ensuring a safe and effective breast augmentation procedure.
2. What are the types of implants available in the Dominican Republic?
Patients can choose between saline and silicone implants, each with its own benefits and considerations. Your surgeon will help you decide which option aligns best with your goals.
3. How long is the recovery period after breast augmentation?
Recovery time varies, but most patients can return to light activities within a week and resume regular exercise after about six weeks. Your surgeon will provide specific guidelines tailored to your case.
4. Can I combine my breast augmentation with a vacation in the Dominican Republic?
Yes, many patients choose to do so. The country's stunning landscapes and relaxing ambiance make it an ideal destination to recover while enjoying a vacation.
5. How do I choose the right surgeon for my breast augmentation?
Research thoroughly, review surgeons' credentials and patient reviews, and have detailed consultations. Finding a board-certified, experienced surgeon with a track record of successful breast augmentation procedures is key.
Enhance Your Confidence with Breast Augmentation in Dominican Republic!
For those considering breast augmentation in the Dominican Republic, PlacidWay Medical Tourism offers comprehensive consultation and assistance to help you embark on your journey toward enhanced confidence and self-image. Book your consultation today and explore the possibilities of breast augmentation in this beautiful Caribbean destination. Click button below to book your appointment!