Sculpting Beauty: Exploring Liposuction in Dominican Republic
Liposuction, a widely sought-after cosmetic procedure, has gained immense popularity in recent years, offering individuals a chance to reshape and redefine their bodies. The Dominican Republic has emerged as a prominent destination for liposuction, drawing medical tourists from around the world. With a combination of skilled medical professionals, state-of-the-art facilities, and the allure of a tropical paradise, liposuction packages in the Dominican Republic have become a prime choice for those seeking both aesthetic enhancement and a memorable vacation.
What is Liposuction?
Liposuction procedures encompass a transformative process that entails the meticulous extraction of surplus fat deposits from specific areas of the body, ultimately resulting in a refined and artistically sculpted appearance. This cosmetic surgical technique aims to harmonize body proportions and contours, allowing individuals to achieve a more aesthetically pleasing and proportional figure. Various cutting-edge techniques are harnessed to accomplish these aspirations, with some of the most prevalent methods including tumescent liposuction, ultrasound-assisted liposuction, and laser liposuction.
Tumescent liposuction involves infusing a solution into the targeted region, which facilitates fat removal while minimizing bleeding and discomfort. Ultrasound-assisted liposuction employs ultrasonic energy to liquefy fat, facilitating its gentler removal and enhancing precision. Laser liposuction employs laser energy to liquefy fat cells, aiding in their removal while also promoting collagen production for improved skin tightness.
Cost of Liposuction in Dominican Republic
The cost of liposuction in the Dominican Republic varies depending on factors such as the number of areas treated, the extent of fat removal, and the chosen clinic's reputation. Generally, prices are significantly more affordable compared to North America or Europe. It's important to note that while cost is a factor, quality and safety should remain the top priorities when considering liposuction packages.
| | |
| --- | --- |
| Provider | Cost in USD |
| Dr. Rafael Mirabal Clinic | $3,500 |
| Dra. Silvia Aviles Clinic | $4,000 |
| CIPLA | $4,600 |
| Centro Medico el Vergel | $6,900 |
Note: price may change and vary depends on complexity of procedures and patient conditions.
Liposuction Packages Inclusions
Consultation: A thorough pre-operative assessment ensures that the patient is a suitable candidate for the procedure and helps the surgeon plan the approach.
Surgical Procedure: The liposuction surgery itself, performed under anesthesia, involves careful fat removal from designated areas.
Post-Operative Garments: Specialized compression garments aid in reducing swelling and promoting optimal healing.
Follow-up Consultations: Regular post-operative check-ups allow the surgeon to monitor progress and address any concerns.
Guidance and Support: Comprehensive instructions for pre and post-operative care ensure a smooth recovery process.
Liposuction Packages Exclusions
Travel and Accommodation: Costs related to travel and lodging are typically not included in package prices.
Additional Procedures: If patients opt for supplementary treatments, such as liposuction on multiple areas or combined surgeries, these might not be covered by the base package.
Medication: Some packages might not include prescribed medications required during the recovery period.
Extended Hospital Stays: Prolonged hospitalization beyond the standard recovery period may result in additional charges.
Complications Management: In case of unexpected complications, additional medical interventions may not be covered in the package.
Liposuction Surgery Pre-Op Tests
Blood Tests: Evaluating blood parameters ensures the patient is fit for surgery and anesthesia.
Medical History Review: A thorough understanding of the patient's medical history helps identify potential risks.
Cardiac Evaluation: Assessing cardiac health ensures safety during surgery and anesthesia.
Physical Examination: A comprehensive physical examination helps the surgeon plan the surgical approach effectively.
Imaging Studies: Pre-operative imaging, such as X-rays or ultrasounds, aids in surgical planning and understanding the patient's anatomy.
Benefits of Choosing Liposuction in Dominican Republic
Expertise and Experience: The Dominican Republic boasts a cadre of highly qualified and experienced plastic surgeons specializing in liposuction. These professionals are often trained internationally and stay updated with the latest advancements in the field, ensuring a safe and effective procedure.
Affordable Packages: One of the major draws of opting for liposuction in the Dominican Republic is its affordability compared to Western countries. This enables patients to receive top-notch care without straining their wallets.
Cutting-edge Facilities: Medical facilities in the Dominican Republic are equipped with state-of-the-art technology, meeting international standards. This ensures that patients receive treatments in modern and safe environments.
Exotic Recovery Environment: Combining medical care with a relaxing recovery period in a beautiful tropical setting can enhance the overall experience. The Dominican Republic offers stunning beaches and a warm climate, aiding in a comfortable recuperation.
Personalized Care: The focus on individualized patient care is a hallmark of Dominican liposuction clinics. Surgeons and medical staff prioritize patient consultations, providing tailored treatment plans and guidance throughout the process.
Top 6 Clinics for Liposuction in Dominican Republic:
The Dominican Republic hosts several world-class clinics specializing in liposuction. These clinics prioritize patient safety, offer advanced surgical techniques, and provide comprehensive pre and post-operative care. Patients can rest assured that they will be in capable hands throughout their treatment journey.
Low-Cost Packages for Liposuction in Dominican Republic
Liposuction packages in the Dominican Republic often include a combination of services, such as surgical fees, anesthesia, post-operative garments, and medical consultations. These packages are designed to offer convenience and a comprehensive experience for patients seeking body contouring solutions.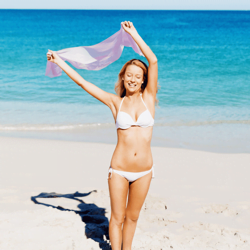 Liposuction Surgeons in Dominican Republic
In the Dominican Republic, you can find skilled and experienced liposuction surgeons who specialize in body contouring and fat removal procedures. These surgeons are often board-certified and well-versed in the latest techniques, ensuring safe and effective outcomes for their patients.
With a commitment to personalized care and attention to detail, liposuction surgeons in the Dominican Republic prioritize understanding patients' aesthetic goals and tailoring procedures to their unique needs. Whether seeking to target specific problem areas or achieve a more sculpted physique, these surgeons combine their expertise with state-of-the-art facilities, making them a preferred choice for individuals seeking high-quality liposuction treatments in a tropical and supportive medical environment.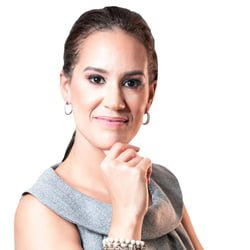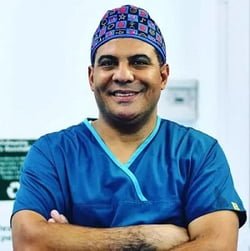 Is Liposuction Right for You?
Desired Results: Liposuction is ideal for those seeking body contouring and removal of localized fat deposits.
Good Health: Candidates should be in overall good health and have realistic expectations about the procedure.
Not a Weight Loss Solution: Liposuction is not a substitute for weight loss; it's best suited for those close to their target weight.
Skin Elasticity: Candidates with good skin elasticity tend to achieve smoother results.
Consultation: A thorough consultation with a qualified surgeon helps determine if liposuction aligns with your goals.
Liposuction in Dominican Republic Before and After Images
Liposuction can lead to remarkable transformations, enhancing body proportions and boosting self-confidence. Before and after photos showcase the potential outcomes, illustrating how the procedure can sculpt and define various body areas.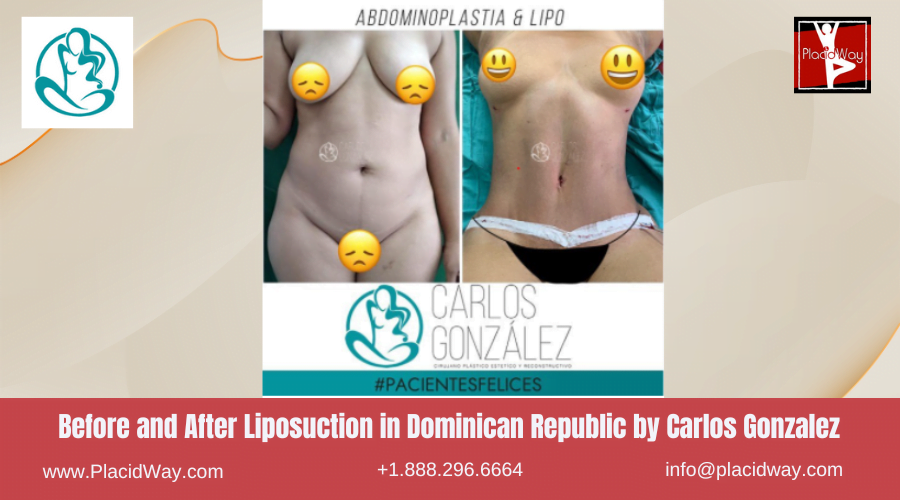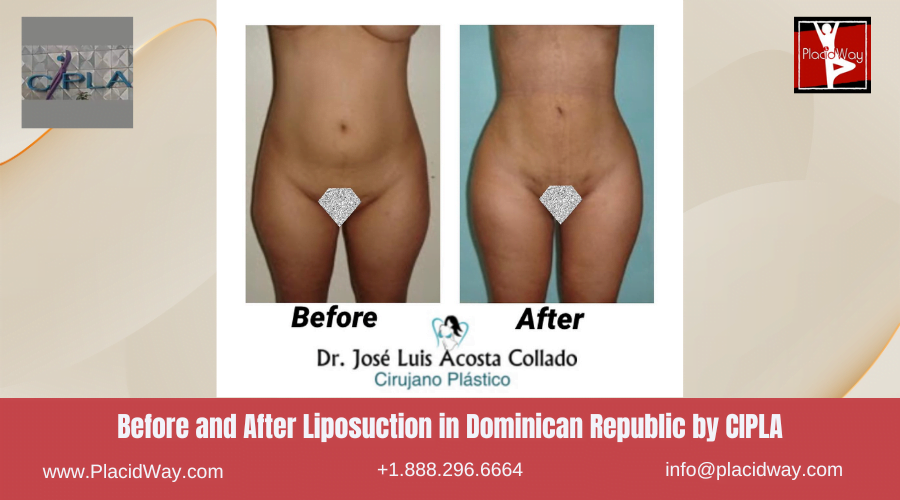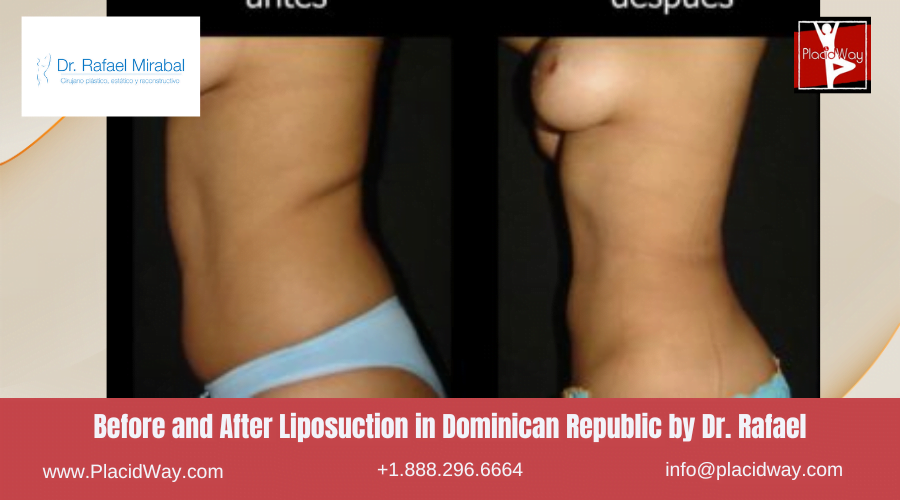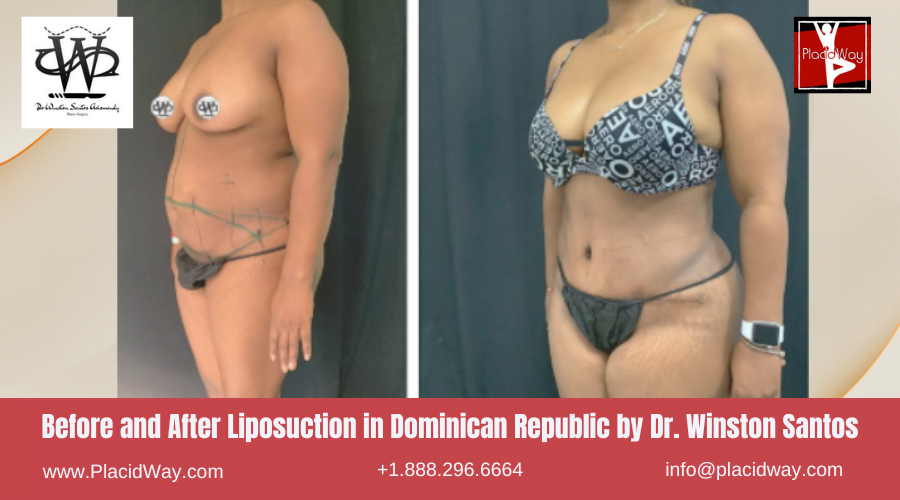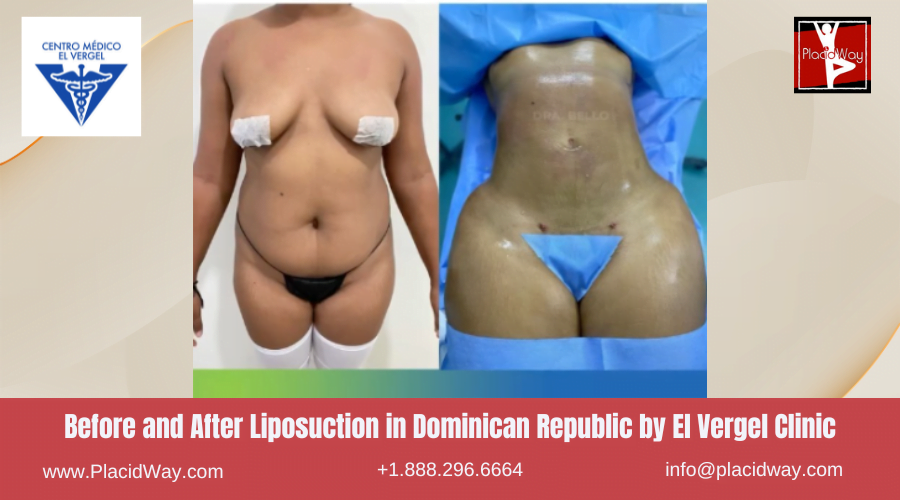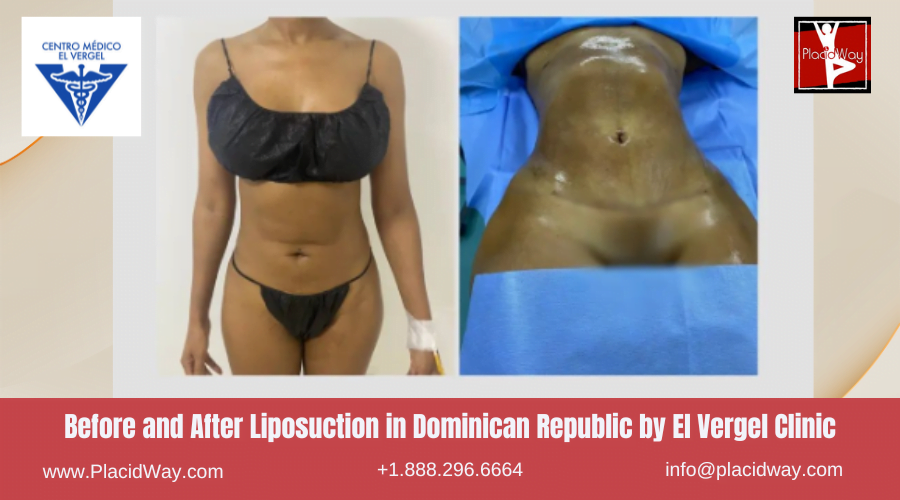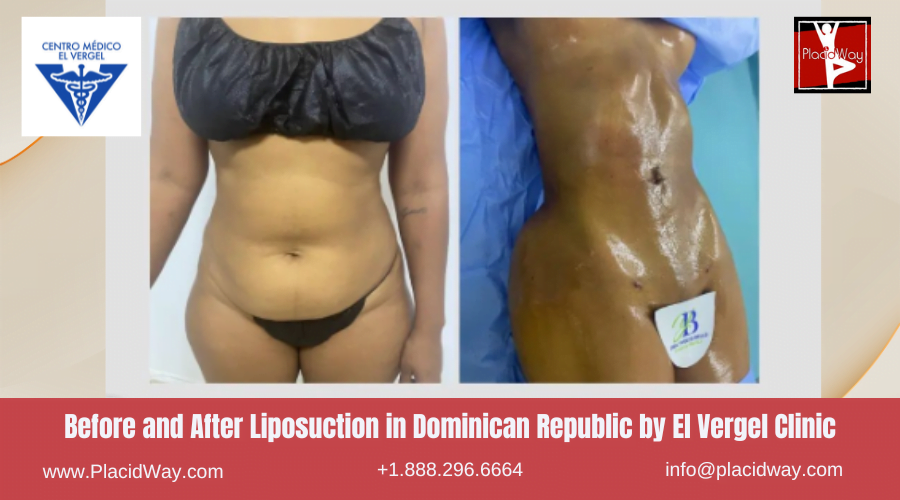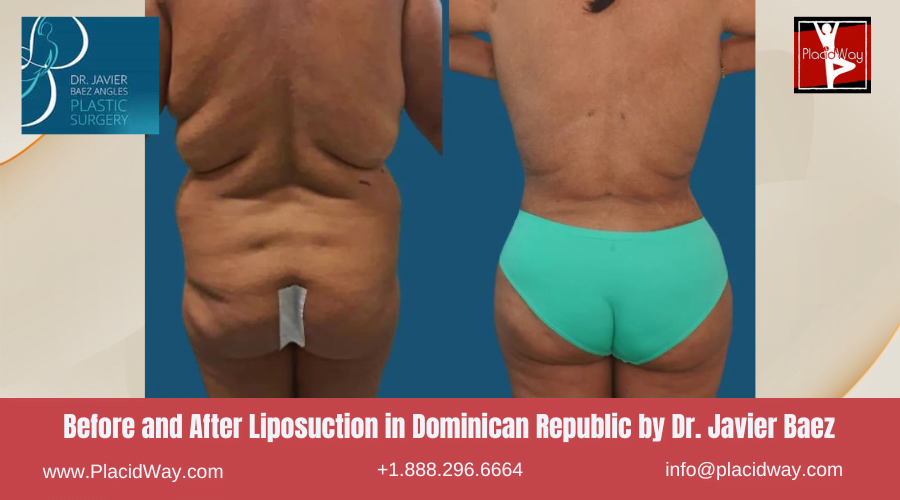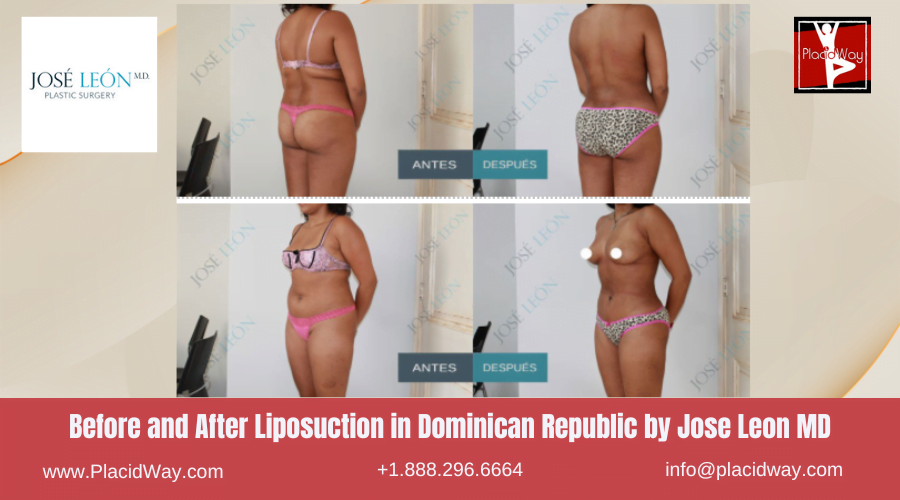 What to Expect During the Liposuction in Dominican Republic?
Consultation: Discuss goals, medical history, and expectations with your surgeon.
Anesthesia: Anesthesia is administered for patient comfort during the procedure.
Incisions: Small incisions are made to insert the cannula for fat removal.
Fat Removal: The surgeon uses specialized techniques to break up and remove excess fat.
Sculpting: The surgeon sculpts the treated areas for enhanced contours.
Closing Incisions: Incisions are closed, and dressings are applied.
Recovery: Follow post-operative instructions for a smooth recovery period.
FAQs (Frequently Asked Questions)
1. Is liposuction in the Dominican Republic safe?
Yes, liposuction procedures in the Dominican Republic are generally safe when performed by experienced and board-certified plastic surgeons. The country boasts a number of reputable clinics with modern facilities and skilled medical professionals.
2. What is the cost of liposuction in the Dominican Republic compared to other countries?
Liposuction in the Dominican Republic is often more affordable compared to countries like the United States or European nations. The cost savings can be substantial, making it an attractive option for medical tourists seeking quality care at a reasonable price.
3. How long does the recovery period usually last after liposuction in the Dominican Republic?
Recovery periods can vary depending on the extent of the procedure and individual healing responses. Typically, patients can expect some discomfort, swelling, and bruising for the first few weeks. Most individuals can return to light activities within a week or two, with more strenuous activities resuming after a few weeks.
4. Are there any specific eligibility criteria for liposuction candidates in the Dominican Republic?
Generally, suitable candidates for liposuction in the Dominican Republic are in good overall health, close to their ideal weight, and have realistic expectations about the procedure. A consultation with a qualified surgeon will help determine if you are an appropriate candidate based on your medical history and aesthetic goals.
5. Can I combine my liposuction trip with a vacation in the Dominican Republic?
Absolutely! Many individuals choose the Dominican Republic for liposuction due to its combination of medical expertise and stunning tropical surroundings. After the initial recovery period, you can enjoy a relaxing vacation, making the most of your time while achieving your aesthetic goals.
Improve Your Appearance with Liposuction in Dominican Republic!
Ready to embark on your journey to a transformed you? Book your consultation with PlacidWay Medical Tourism and explore the world of liposuction packages in the Dominican Republic. Our team of professionals is here to guide you every step of the way, ensuring a safe, effective, and memorable experience. Contact us today to begin your path to renewed confidence and vitality.