Exclusive Rhinoplasty Packages in Merida, Mexico – Nose Job Nirvana!
Experience the ultimate Nose Job Nirvana with our exclusive Rhinoplasty Packages in the enchanting city of Merida, Mexico! Embrace a transformative journey as skilled plastic surgeons, state-of-the-art facilities, and top-notch medical services come together to provide you with the nose of your dreams. Not only will you receive personalized and comprehensive pre and post-operative care, but you will also have the opportunity to recover in the serene and culturally rich ambiance of Merida. Let our tailored packages cater to your individual needs, delivering an unparalleled experience that combines cosmetic enhancement with an unforgettable medical tourism adventure.
Nose Surgery Prices in Merida, Mexico
In general, the cost of rhinoplasty in Merida, Mexico, is significantly more affordable compared to many Western countries. The exact price may vary depending on the complexity of the procedure, the surgeon's experience, and the facilities chosen. On average, patients can expect to pay a fraction of the price they would in their home country, without compromising on the quality of care or the final results.
| | |
| --- | --- |
| Provider | Cost in USD |
| Dr. Ernesto Javier Acosta Abeyta | $4,000 |
| Medina Flores Plastic Surgery | $4,500 |
Note: the price may change and vary depending on factors such as the complexity of the procedure, the surgeon's experience, the chosen clinic or hospital, and any additional services or inclusions in the package.
Rhinoplasty Packages Inclusions
Surgery by Experienced Surgeons: The package includes the rhinoplasty surgery performed by highly experienced and skilled plastic surgeons.
Pre and Post-Operative Care: Patients can expect comprehensive care before and after the procedure to ensure a smooth and comfortable recovery.
Accommodation: The package often includes accommodation in top-notch hotels or recovery centers to provide a restful and conducive environment during the healing process.
Transportation: Transportation to and from the clinic and the airport is often included in the package to ease logistical concerns for patients.
Guided City Tours: Many packages offer the opportunity to explore the beauty and cultural richness of Merida during the recovery period, turning the trip into an unforgettable experience.
Rhinoplasty Packages Exclusions
International Travel Expenses: The package usually does not cover the costs of international flights to and from Merida.
Additional Medical Procedures: If the patient requires additional medical procedures or tests beyond the scope of the rhinoplasty, they may incur extra costs.
Personal Expenses: Expenses related to personal items, meals, and entertainment during the trip are generally not included in the package.
Travel Insurance: Patients are advised to arrange for their travel insurance to cover any unforeseen medical circumstances or trip cancellations.
Post-Recovery Care: While pre and post-operative care are typically included, any prolonged or additional care beyond the standard recovery period may not be covered.
Rhinoplasty Surgery Pre-Op Tests
Physical Examination: A comprehensive physical examination is conducted to assess the patient's overall health and determine if they are suitable candidates for the procedure.
Nasal Assessment: The surgeon evaluates the nasal structure and discusses the patient's aesthetic goals and concerns.
Medical History Review: Understanding the patient's medical history helps the surgeon identify potential risks and tailor the treatment accordingly.
Blood Tests: Routine blood tests are conducted to check for any underlying health conditions that may impact the surgery.
Imaging and Analysis: Advanced imaging techniques, such as computerized tomography (CT) scans or 3D simulations, may be used to visualize the potential outcomes and plan the surgery effectively.
Top 5 Reasons to Choose Nose Surgery in Merida, Mexico
Privacy and Comfort: Choosing Merida for rhinoplasty allows patients to recover in a peaceful and relaxing environment. The city's serene ambiance promotes faster healing and a stress-free recuperation period.
Opportunity to Explore a New Culture: Combining the rhinoplasty journey with a memorable experience of exploring Merida's rich culture, stunning architecture, and delicious cuisine can turn the trip into a remarkable and enriching adventure.
Cost-Effectiveness: One of the primary reasons many people opt for rhinoplasty in Merida is the significant cost savings. Compared to countries like the United States or Canada, the procedure costs in Merida are considerably lower while maintaining high-quality medical services.
Experienced Surgeons: Merida boasts a pool of skilled and experienced plastic surgeons who have undergone rigorous training and are board-certified. Many of them have also received international recognition for their expertise, providing patients with confidence in their capabilities.
State-of-the-Art Facilities: The medical facilities in Merida are equipped with modern technologies and adhere to international standards, ensuring patients receive top-notch treatment and care.
Definition of Rhinoplasty
Rhinoplasty is a surgical procedure that involves reshaping the nose to improve its appearance or function. It can address various concerns such as a crooked nose, nasal humps, wide nostrils, or breathing difficulties. The surgery can be performed using either an open or closed technique, depending on the patient's needs and the surgeon's preference. The recovery period typically lasts a few weeks, during which patients must follow post-operative instructions diligently.
Top Rhinoplasty Clinics in Merida, Mexico
Merida is home to several reputable clinics that offer rhinoplasty services. These clinics prioritize patient safety, adhere to international medical standards, and maintain a welcoming and professional environment. Patients can trust the expertise of these clinics and their commitment to delivering satisfactory results.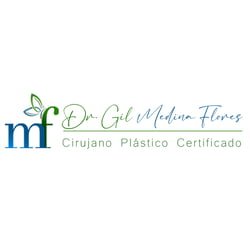 Affordable Rhinoplasty Packages in Merida, Mexico
When it comes to rhinoplasty packages in Merida, patients are spoiled for choice. Many medical tourism companies and clinics offer comprehensive packages that cater to diverse needs and budgets. These packages often include the surgery itself, pre and post-operative care, accommodation, transportation, and even guided city tours.
Rhinoplasty Doctors in Merida, Mexico
The pool of plastic surgeons in Merida is brimming with talent, and patients can rest assured that they will find skilled professionals who can perform rhinoplasty with precision and care. These doctors have built a reputation for their expertise and dedication to patient satisfaction.
Is Rhinoplasty Right for You?
Are you dissatisfied with the appearance of your nose, such as its size, shape, or symmetry?
Do you experience difficulty breathing due to structural issues in your nose?
Are you in good overall health and free from any medical conditions that could increase the risks of surgery?
Have you thoroughly discussed your expectations and concerns with a qualified plastic surgeon?
Are you mentally prepared for the surgery and the recovery process?
Rhinoplasty in Merida, Mexico Before and After Results
Rhinoplasty can bring about remarkable transformations, enhancing facial harmony and boosting self-confidence. Before committing to the procedure, patients are typically shown simulations or images of expected post-operative results. It is important to have realistic expectations and understand that individual results may vary.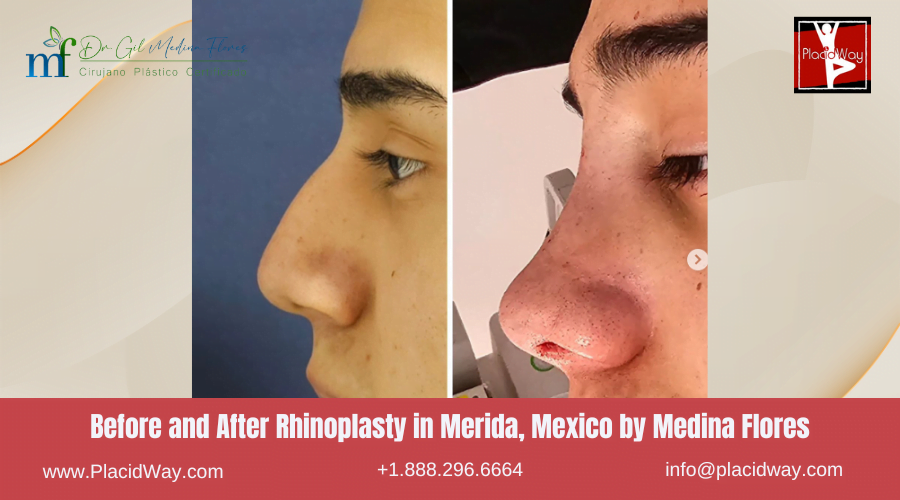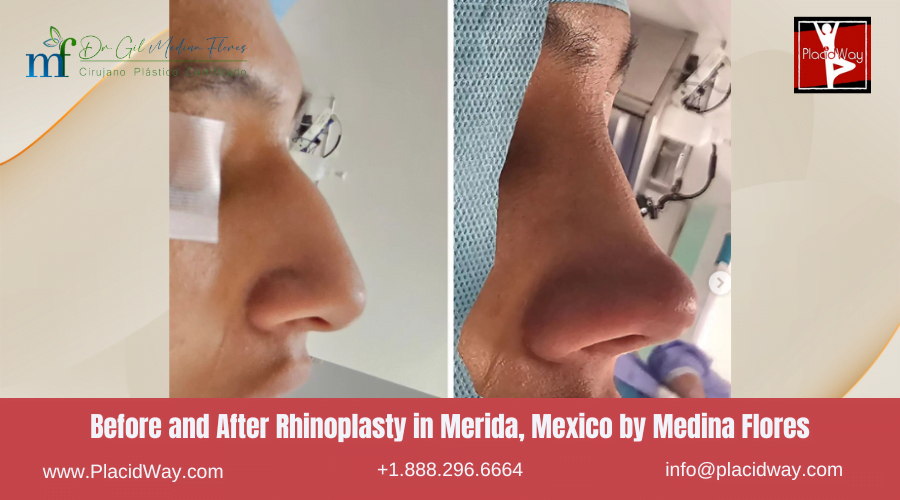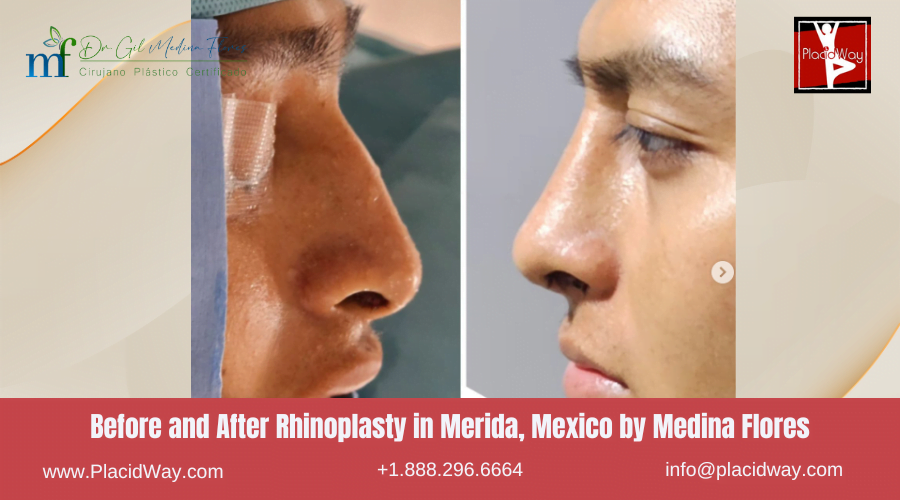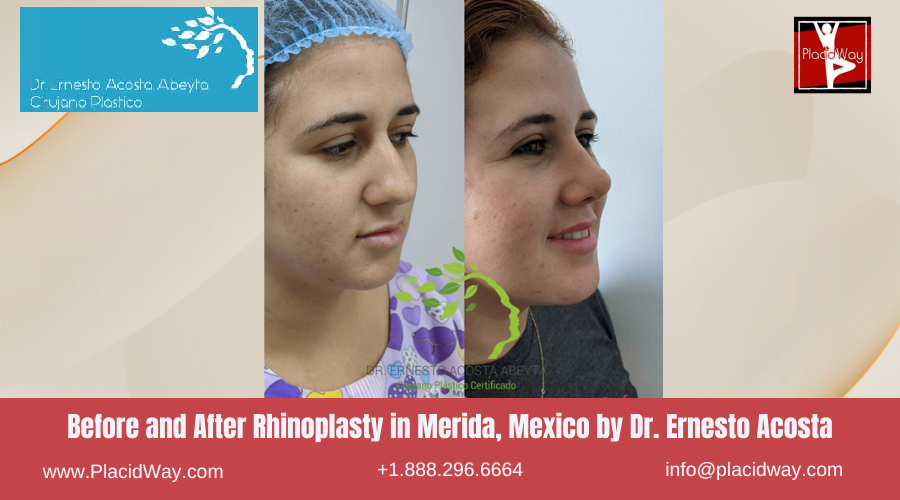 What to Expect During Rhinoplasty in Merida, Mexico
An initial consultation with the surgeon to discuss goals, concerns, and expectations.
Administration of anesthesia for a pain-free and comfortable surgical experience.
Incisions made inside the nose or, in some cases, on the outside, depending on the surgical technique.
Reshaping of cartilage and bone to achieve the desired nose shape.
Closure of incisions and placement of splints to support the new nasal structure during healing.
Post-operative care instructions and follow-up appointments to monitor the healing progress.
FAQs (Frequently Asked Questions)
1. Is Rhinoplasty in Merida, Mexico safe and reliable?
Yes, rhinoplasty in Merida is safe and reliable. The city is home to reputable clinics and experienced plastic surgeons who follow international medical standards. Additionally, the state-of-the-art facilities and commitment to patient safety ensure a positive and successful surgical experience.
2. How much does rhinoplasty cost in Merida, Mexico?
The cost of rhinoplasty in Merida is generally more affordable compared to many Western countries. However, the exact price may vary based on the complexity of the procedure, surgeon's experience, and chosen facilities. On average, patients can expect significant cost savings without compromising on the quality of care.
3. What is the typical recovery period for rhinoplasty in Merida?
The recovery period for rhinoplasty in Merida typically lasts a few weeks. Patients are advised to follow post-operative care instructions diligently, avoid strenuous activities, and keep the nasal area protected during this time. Swelling and bruising are common initially but will gradually subside as the healing progresses.
4. Can I combine rhinoplasty with a vacation in Merida, Mexico?
Yes, many patients choose to combine their rhinoplasty journey with a vacation in Merida. The city's rich cultural heritage, beautiful landmarks, and delicious cuisine offer a wonderful opportunity to explore and relax during the recovery period.
5. How do I choose the right plastic surgeon for my rhinoplasty in Merida, Mexico?
When choosing a plastic surgeon for rhinoplasty in Merida, consider factors such as their qualifications, experience, certifications, and patient reviews. Look for a surgeon who specializes in rhinoplasty and has a track record of achieving satisfying results. It is crucial to have a thorough consultation to discuss your goals and ensure you feel comfortable with the chosen surgeon before proceeding with the procedure.
Achieve Your Dream Appearance with Nose Surgery in Merida, Mexico!
If you are considering rhinoplasty in Merida, Mexico, take the first step towards achieving your dream appearance by booking a consultation at PlacidWay Medical Tourism. Our expert team will assist you in finding the right clinic and surgeon, ensuring a seamless and satisfying experience. Embark on your rhinoplasty journey in the enchanting city of Merida, and let it be a life-changing experience you'll cherish forever.