Mommy Makeover in Dominican Republic: Enhancing Your Confidence and Beauty
A Mommy Makeover is a transformative cosmetic surgery package designed to help women regain their pre-pregnancy bodies, often after childbirth and breastfeeding have left lasting changes. The Dominican Republic has emerged as a sought-after destination for these procedures, blending world-class medical expertise with the allure of a tropical paradise. Here we will explores the Mommy Makeover packages available in the Dominican Republic, highlighting the advantages of choosing this treatment option, discussing procedure prices, top clinics, esteemed doctors, and offering a comprehensive overview of the procedures and what to expect. Whether you're considering a tummy tuck, breast augmentation, liposuction, or a combination of procedures, the Dominican Republic presents a compelling case as a prime medical tourism destination for plastic surgery.
Mommy Makeover Overview
A Mommy Makeover typically consists of a combination of procedures tailored to each patient's needs and goals. Common components may include tummy tucks, breast lifts or augmentations, liposuction, and more. These procedures are designed to address the physical changes that often occur after pregnancy and childbirth, helping women regain their confidence and youthful appearance.
How Much is a Mommy Makeover in Dominican Republic?
Prices for Mommy Makeover packages in the Dominican Republic are significantly lower than in many Western countries, making it an attractive option for individuals seeking quality cosmetic procedures without the hefty price tag. The cost of a Mommy Makeover can vary depending on the combination of procedures chosen, the extent of the surgery, the clinic's reputation, and additional factors such as accommodation and aftercare. However, patients can generally expect to save a substantial amount while still receiving exceptional medical care and achieving their desired results.
| | |
| --- | --- |
| Provider | Mommy Makeover Cost in USD |
| Dr. Rafael Mirabal Clinic | $7,500 |
| Jose Leon M.D. Clinic | $9,800 |
| CIPLA | $8,650 |
| Dra. Silvia Aviles Clinic | $5,500 |
| Centro Medico el Vergel | $10,900 |
| Dr. Javier Baez Angles | $5,000 |
Note: price may change and vary depends on complexity of procedures and patient condition.
Mommy Makeover Packages Inclusions
Consultations: Pre-surgery consultations with your chosen medical team to discuss goals, expectations, and create a personalized treatment plan.
Surgical Procedures: A combination of surgeries tailored to your needs, performed by skilled professionals in state-of-the-art clinics.
Post-Operative Care: Comprehensive aftercare, including follow-up appointments and guidance during the recovery process.
Accommodation: Comfortable and convenient lodging options for patients and their accompanying companions.
Transfers: Seamless transportation arrangements to and from the clinic, ensuring a stress-free experience.
Mommy Makeover Packages Exclusions
Travel Expenses: Flights to and from the Dominican Republic are usually not included in the package cost.
Additional Medical Needs: Any unforeseen medical requirements or complications beyond the agreed-upon procedures.
Personal Expenses: Costs related to personal purchases, leisure activities, and sightseeing.
Extended Stays: If you choose to extend your stay beyond the package duration, extra accommodations and living expenses will not be covered.
Specialized Medications: Prescription medications that may be required post-surgery.
Mommy Makeover Surgery Pre-Op Tests
Blood Tests: To assess overall health and screen for potential complications.
Cardiac Evaluation: Ensures your heart is healthy enough for surgery and anesthesia.
Medical History Review: Understanding your medical background to tailor the procedure to your needs.
Imaging: X-rays and scans to visualize internal structures and guide surgical planning.
Pregnancy Test: To confirm you are not pregnant, ensuring the safety of the procedure.
Advantages of Choosing Mommy Makeover in the Dominican Republic
Expertise and Accreditation: The Dominican Republic boasts a robust medical infrastructure with internationally trained and accredited surgeons who specialize in cosmetic procedures, including Mommy Makeovers.
Cost Savings: One of the most significant draws of undergoing a Mommy Makeover in the Dominican Republic is the substantial cost savings compared to many Western countries, without compromising on quality.
Personalized Packages: Many clinics in the Dominican Republic offer tailored Mommy Makeover packages, allowing patients to choose the specific procedures that address their unique concerns and goals.
Recovery in Paradise: Combining medical care with a serene tropical environment can aid in recovery, as patients enjoy the tranquil surroundings while healing and rejuvenating.
Privacy and Confidentiality: The country's top medical facilities prioritize patient privacy and offer a discreet and comfortable environment for undergoing transformative procedures.
Top Clinics for Mommy Makeover in Dominican Republic
The Dominican Republic houses a selection of world-renowned clinics that specialize in cosmetic and plastic surgery. These clinics offer state-of-the-art facilities, modern equipment, and a team of skilled medical professionals dedicated to ensuring patient safety, comfort, and satisfaction. Patients can choose from a variety of clinics, each with its unique strengths and specializations, ensuring they find the perfect match for their Mommy Makeover journey.
All Inclusive Packages for Mommy Makeover in Dominican Republic
Mommy Makeover packages in the Dominican Republic are designed to provide patients with a comprehensive and streamlined experience. These packages often include a combination of procedures such as tummy tucks, breast augmentations, liposuction, and more. They may also encompass pre-operative tests, post-operative care, accommodations, and transfers. These packages are tailored to suit different preferences and budgets, ensuring patients have access to the treatments they need to achieve their desired outcomes.
Board Certified Mommy Makeover Doctors in Dominican Republic
Renowned for their expertise and experience, the Dominican Republic's top doctors in the field of cosmetic surgery are highly regarded both locally and internationally. They possess a wealth of knowledge and skills in performing Mommy Makeover procedures, ensuring optimal results while prioritizing patient safety and satisfaction. Collaborating with these esteemed professionals can provide patients with confidence and peace of mind throughout their cosmetic journey.
Is Mommy Makeover Right for You?
Physical Health: Ensure you are in good overall health and cleared for surgery by a medical professional.
Emotional Readiness: Understand the expectations and potential outcomes, addressing any concerns with your medical team.
Family Planning: If you plan on having more children, it might be best to postpone the procedure until after your family is complete.
Realistic Expectations: Have a clear understanding of what the Mommy Makeover can achieve and discuss your goals with your surgeon.
Recovery Commitment: Be prepared to follow post-operative instructions diligently for a smooth recovery.
Mommy Makeover in Dominican Republic Before and After Images
Mommy Makeovers in the Dominican Republic offer transformative results that can enhance your self-confidence and rejuvenate your appearance. The before-and-after outcomes demonstrate the remarkable changes that can be achieved through the skilled hands of experienced surgeons. These results can serve as a visual guide to the possibilities that lie ahead on your journey to regaining your pre-pregnancy body.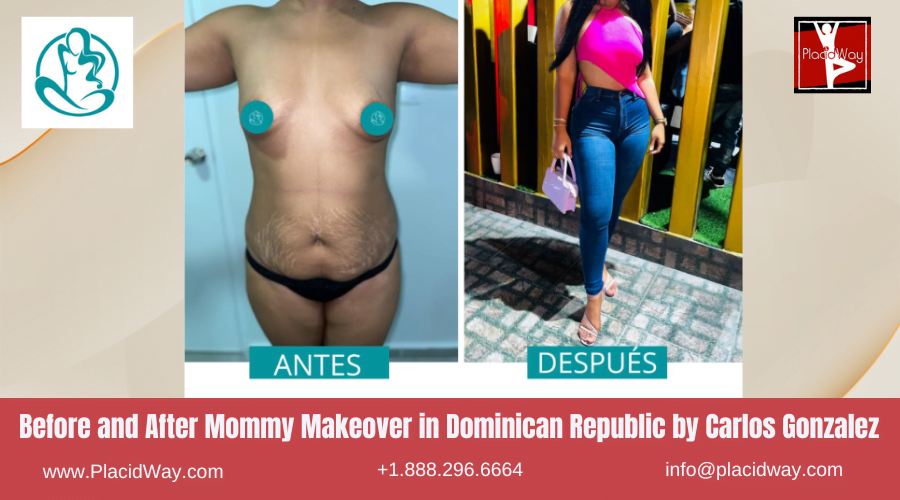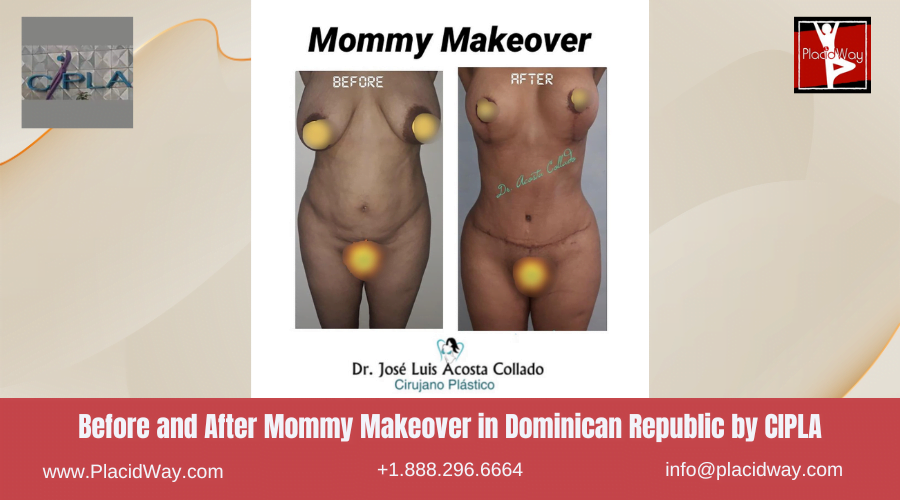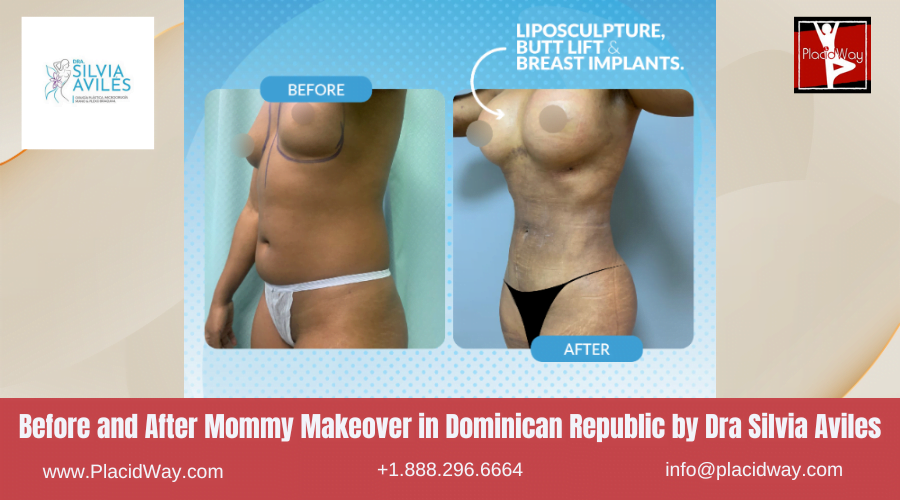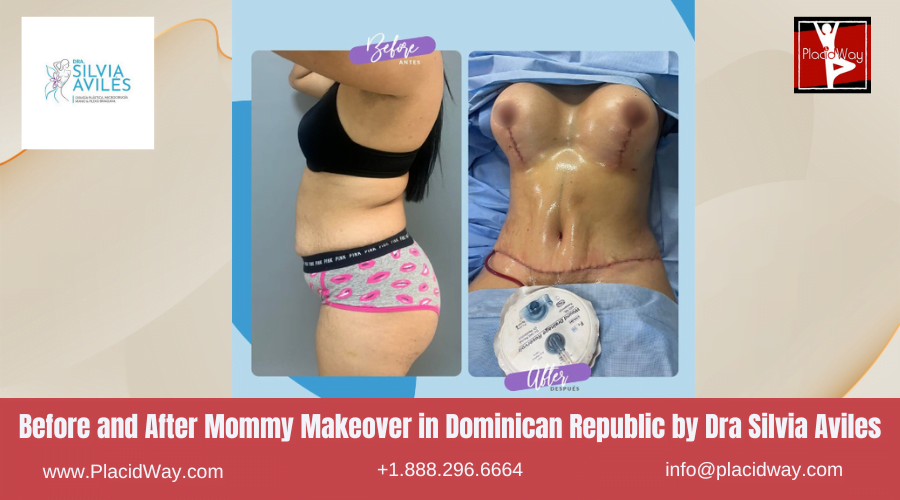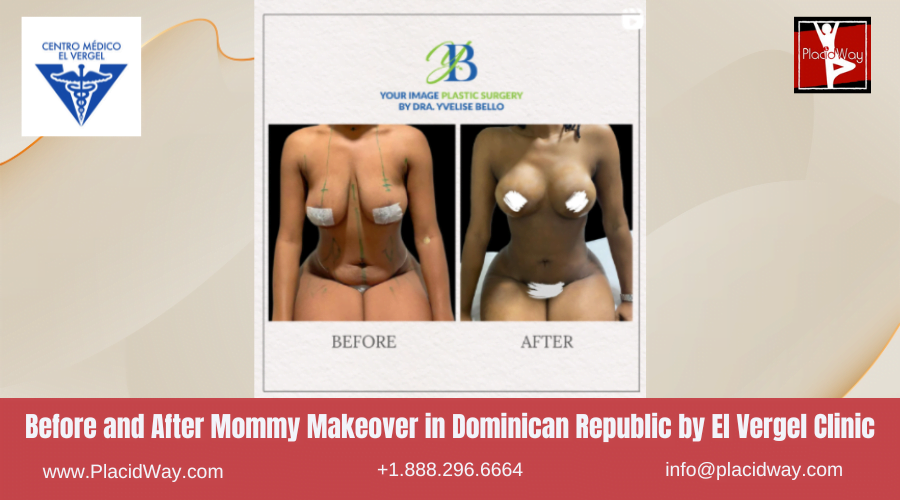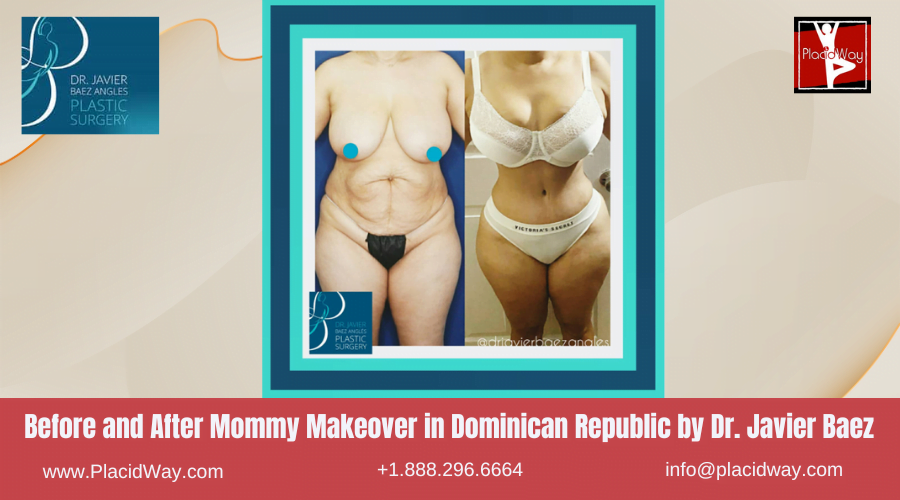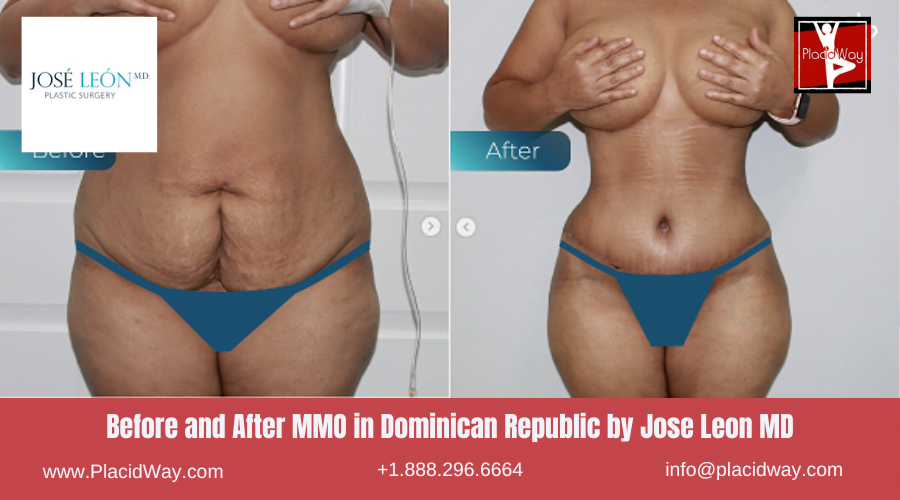 What to Expect During the Mommy Makeover in the Dominican Republic
Initial Consultation: Discuss your goals, medical history, and expectations with your chosen medical team.
Preparation: Undergo necessary pre-operative tests and receive detailed instructions for the day of surgery.
Surgery: The procedures will be performed under anesthesia in a state-of-the-art clinic, guided by your surgeon's expertise.
Recovery: Experience a period of healing and follow your surgeon's post-operative care instructions closely.
Results: Witness the transformation as swelling subsides and the final results of your Mommy Makeover emerge.
Frequently Asked Questions (FAQs)
1. FAQ: What is a Mommy Makeover, and how does it differ from individual procedures?
Answer: A Mommy Makeover is a combination of cosmetic procedures customized to address post-pregnancy body changes. Unlike individual procedures, it targets multiple areas in a single surgery session for comprehensive results.
2. FAQ: Why should I consider getting a Mommy Makeover in the Dominican Republic?
Answer: The Dominican Republic offers top-notch medical expertise, cost savings, personalized packages, and a serene recovery environment, making it an attractive destination for achieving your desired post-pregnancy body.
3. FAQ: What procedures are typically included in a Mommy Makeover package?
Answer: Mommy Makeover packages often include procedures like tummy tucks, breast augmentations, liposuction, and breast lifts. The combination is tailored to your needs and goals.
4. FAQ: How can I choose the right clinic and doctor for my Mommy Makeover in the Dominican Republic?
Answer: Research clinics with reputable certifications, read patient reviews, and select a board-certified plastic surgeon with a proven track record in the specific procedures you're interested in.
5. FAQ: What factors should I consider before traveling for a Mommy Makeover?
Answer: Ensure your overall health is suitable for surgery, discuss expectations with your medical team, plan for post-surgery recovery, and have realistic goals aligned with the procedure's potential outcomes.
Rejuvenate Your Post-Pregnancy Body With a Mommy Makeover in Dominican Republic!
Are you ready to transform and rejuvenate your post-pregnancy body with a Mommy Makeover in the picturesque Dominican Republic? Experience the perfect blend of world-class medical expertise and the allure of a tropical paradise. Receive a personalized FREE QUOTE today, tailored to your unique needs and goals, offering you a glimpse into the possibilities that await on your journey to renewed confidence and beauty.