Explore Exclusive Facelift Packages in Merida, Mexico! – Rejuvenate Your Look!
Let's get started to the vibrant world of medical tourism in Merida, Mexico, where the pursuit of ageless beauty meets the charm of a culturally rich destination. Merida has emerged as a leading hub for facelift procedures, offering an exceptional blend of top-tier medical facilities, skilled surgeons, and affordable packages. This enchanting city, with its historical heritage and modern amenities, beckons patients from around the globe seeking to rejuvenate their appearance through world-class facelift treatments.
Facelifts have long been a sought-after cosmetic procedure for those looking to turn back the hands of time and restore a more youthful and refreshed look. In Merida, the journey to a revitalized appearance begins with a comprehensive selection of facelift packages tailored to cater to every individual's needs and preferences. Whether you are seeking to address sagging skin, deep creases, or loss of facial volume, Merida's top clinics and expert surgeons are dedicated to delivering exceptional results, complemented by warm hospitality and personalized care.
What is Facelift Surgery?
Facelift procedures, also known as rhytidectomy, are surgical interventions aimed at tightening the skin and muscles of the face to reduce sagging and wrinkles. The surgery can address various facial concerns, such as loose skin on the cheeks, deep creases, jowls, and excess fat deposits. The procedure is typically performed under general anesthesia and can take several hours, depending on the complexity. Recovery times vary from patient to patient, but most individuals can return to their regular activities within a few weeks.
Facelift Prices in Merida, Mexico
The cost of facelift procedures in Merida can vary depending on several factors, including the complexity of the surgery, the surgeon's experience, the type of facelift chosen, and the facilities used. On average, the cost of a facelift in Merida can be significantly lower compared to countries like the United States or Canada, making it an appealing option for international patients seeking affordable yet high-quality treatments.
| | |
| --- | --- |
| Provider | Price in USD |
| Dr. Ernesto Javier Acosta Abeyta | $9,000 |
| Medina Flores Plastic Surgery | $6,500 |
Note: please note that prices are subject to change, and for the latest pricing information, please contact our customer representative at PlacidWay Medical Tourim to learn more.
Facelift Package Inclusions
Facelift Surgery: The package includes the primary facelift procedure performed by an experienced cosmetic surgeon using advanced techniques to achieve optimal results.
Pre-Operative Consultation: Patients will have an initial consultation with their chosen surgeon to discuss their cosmetic goals, medical history, and any concerns they may have.
Post-Operative Care: The package provides comprehensive post-operative care, including follow-up appointments with the surgeon, medication, and wound care instructions to facilitate a smooth recovery process.
Accommodation: Medical tourists will be offered accommodation options in comfortable and convenient locations to ensure a relaxing and stress-free stay during their treatment.
Local Transportation: The package often includes airport transfers and local transportation to medical appointments and clinics, ensuring patients can navigate the city comfortably.
Facelift Package Exclusions
Travel Expenses: The package generally does not cover travel expenses to and from Merida, including airfare.
Additional Treatments: If patients choose to undergo other cosmetic procedures or require additional treatments not included in the package, these will be charged separately.
Personal Expenses: Personal expenses, such as meals, sightseeing, and shopping, are typically not included in the package.
Complications and Revisions: In case of unexpected complications or the need for revision surgeries, additional costs may apply.
Extended Stays: If patients wish to extend their stay beyond the package duration, they will need to cover the additional accommodation and transportation costs.
Facelift Surgery Pre-Op Tests
Blood Tests: Blood tests are performed to assess the patient's overall health, check for any underlying medical conditions, and ensure they are fit for surgery.
Imaging Studies: Imaging studies, such as X-rays or CT scans, may be conducted to provide the surgeon with detailed information about the facial structure and aid in surgical planning.
Cardiac Evaluation: Patients may undergo a cardiac evaluation to assess the health of their heart and determine their ability to undergo anesthesia and surgery.
Allergy Testing: Allergy testing may be recommended to identify potential allergic reactions to medications or anesthesia used during the facelift procedure.
Skin Assessment: A thorough skin assessment helps the surgeon determine the most appropriate facelift technique and identify any skin conditions that may need attention before the surgery.
Advantages of Facelift in Merida, Mexico
Advanced Medical Facilities: Merida boasts modern and well-equipped medical facilities that adhere to international standards. These state-of-the-art clinics and hospitals provide a safe and comfortable environment for patients undergoing facelift procedures.
Experienced Cosmetic Surgeons: Merida is home to a pool of highly skilled and experienced cosmetic surgeons specializing in facelift procedures. Many of these surgeons have received training and certification from reputable institutions around the world, ensuring top-notch medical care and results.
Cost-Effective Treatment: One of the most significant advantages of opting for a facelift in Merida is the cost-effectiveness of the treatment. The overall cost, including the procedure itself, accommodation, and travel expenses, is often much lower compared to other countries, making it an attractive option for budget-conscious patients.
Beautiful Tourist Destination: While undergoing a facelift treatment in Merida, patients can also enjoy the city's rich cultural heritage, stunning architecture, and vibrant atmosphere. Merida offers a perfect blend of modern amenities and traditional charm, providing a memorable experience for medical tourists.
Short Waiting Times: In many countries, there can be long waiting times for cosmetic procedures due to high demand. However, Merida offers relatively short waiting times, allowing patients to schedule their facelift treatment conveniently and without unnecessary delays.
Plastic Surgery Clinics in Merida, Mexico for Facelift Procedure
Merida boasts several reputable clinics that specialize in facelift procedures. These clinics offer a wide range of services, state-of-the-art facilities, and a team of experienced surgeons and medical staff. Patients can research and choose from a variety of clinics that best align with their preferences and requirements for the facelift treatment.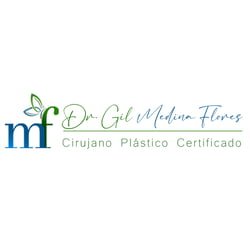 All Inclusive Facelift Packages in Merida, Mexico
Facelift packages in Merida are designed to cater to the diverse needs of international patients. These packages often include the facelift procedure itself, pre and post-operative care, accommodation, local transportation, and other essential services. Patients can explore different packages to find one that suits their preferences and budget.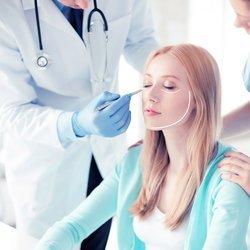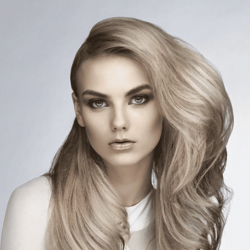 Board Certified Facelift Surgeons in Merida, Mexico
Merida is home to a talented pool of cosmetic surgeons specializing in facelift procedures. These doctors have undergone rigorous training and have a track record of successful facelift surgeries. While considering a facelift treatment in Merida, patients should look for doctors with extensive experience, proper certifications, and positive patient reviews.
Is Facelift Surgery Right for You?
Facelift treatment may be suitable for individuals who have noticeable signs of aging on their face, such as sagging skin, wrinkles, and loss of facial volume. Candidates should be in good overall health, non-smokers, and have realistic expectations about the outcomes of the procedure. It is essential to discuss individual concerns and medical history with a qualified surgeon to determine if a facelift is the right option and explore alternative treatments if necessary.
Facelift Surgery in Merida, Mexico Before and After Images
Facelift procedures can yield remarkable results, providing patients with a smoother, more youthful facial appearance. Before the surgery, patients will discuss their cosmetic goals with the surgeon, who will explain what can be achieved realistically through the procedure. After the surgery, patients should follow post-operative care instructions carefully to ensure optimal healing and the best possible outcome.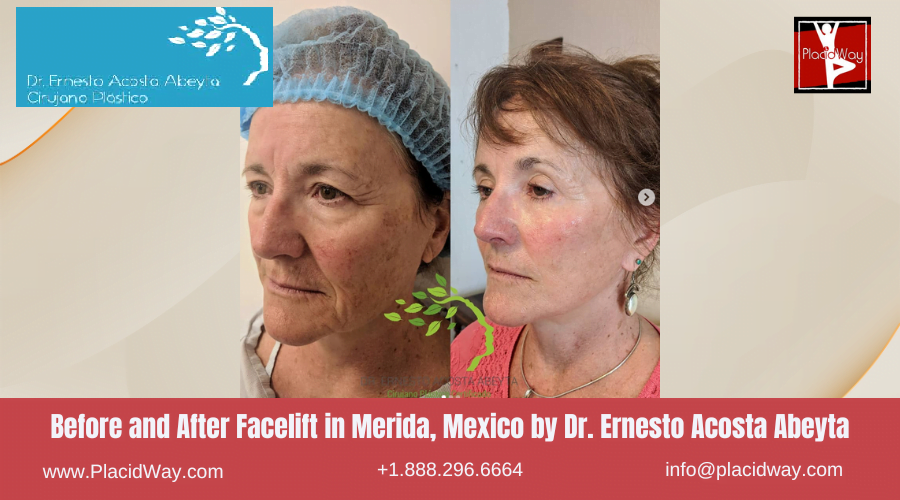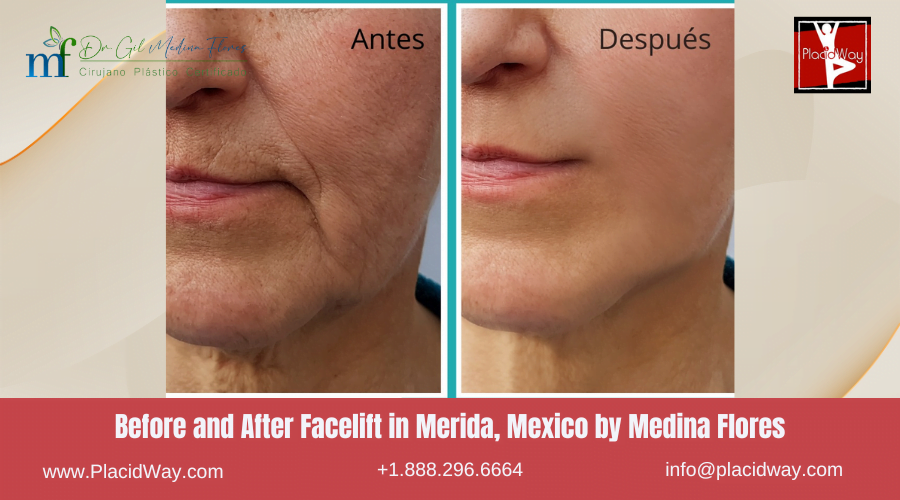 What to Expect During Facelift Surgery in Merida, Mexico?
Anesthesia: Facelift procedures are typically performed under general anesthesia to ensure the patient's comfort and safety during the surgery.
Incisions: The surgeon will make incisions carefully, usually around the hairline and behind the ears, to access the underlying facial tissues.
Tissue Repositioning: The surgeon will lift and reposition the facial tissues, removing excess skin if necessary to create a more youthful appearance.
Closure: After repositioning the tissues, the incisions are closed with sutures or other techniques.
Recovery: Patients will experience some swelling and bruising after the procedure, which gradually subsides over the following weeks.
Results: Over time, as the healing process progresses, patients will notice the full results of the facelift treatment, with a rejuvenated and more youthful appearance.
FAQs (Frequently Asked Questions)
Q1: How long does the facelift procedure typically take?
A1: The duration of a facelift procedure in Merida, Mexico, can vary depending on the complexity of the surgery, but it usually takes around 2 to 4 hours.
Q2: Is there a specific age requirement for getting a facelift in Merida?
A2: While there is no strict age requirement, candidates for a facelift should generally be in their 40s or older and have visible signs of aging, such as sagging skin and wrinkles.
Q3: What is the expected downtime after a facelift in Merida?
A3: Patients can expect some downtime after a facelift, usually around 1 to 2 weeks. During this period, they may experience swelling and bruising, which gradually subsides as the healing process progresses.
Q4: Are facelift results permanent?
A4: While a facelift can produce long-lasting results, it cannot stop the natural aging process. The effects of a facelift typically last for several years, and patients can maintain their rejuvenated appearance through a healthy lifestyle and proper skincare.
Q5: Are there any potential risks associated with getting a facelift in Merida?
A5: As with any surgical procedure, facelifts carry some inherent risks. However, choosing an experienced and board-certified surgeon in Merida reduces the chances of complications. Common risks may include infection, scarring, and temporary numbness in the facial area. Patients are advised to follow their surgeon's post-operative care instructions carefully to minimize these risks.
Get FREE QUOTE for Facelift Surgery in Merida, Mexico at PlacidWay!
If you are considering a facelift treatment in Merida, Mexico, take the first step towards achieving your cosmetic goals by booking a consultation at PlacidWay Medical Tourism. Our experienced team will assist you in connecting with top clinics and doctors in Merida, ensuring a seamless and rewarding medical tourism experience. Contact us today to explore the possibilities of facelift packages in Merida and embark on your journey to a more youthful you. Click button below to get started: