Dental Veneers Treatment- Best Package in Antalya, Turkey
One of the best aesthetic dental care solutions with increasing demand is dental veneers procedure. The biggest reason for the procedure's popularity is the natural appearance and the best quality of materials. Veneers are used to correct several aesthetic imperfections like shape or shade of a tooth. Moreover, you can choose any shade of white so that it matches the natural color of your teeth. So, if you are suffering from dental crowding, asymmetrical teeth, stained teeth, dental traumas or unaesthetic dental gaps, dental veneers can be a good solution.
Turkey is steadily rising as a key destination for dental tourism. There many many top-notch dental clinics in the prominent Turkish city of Antalya. You should opt for a licensed and accredited dental clinic that provides top-class dental veneers solutions in Antalya. Here, you will find details about the best dental veneer package in Antalya, Turkey.
Dental Veneers Package Benefits in Antalya, Turkey
Affordable cost
Renowned dentists
Gum tissue tolerates veneers well
Natural appearance of teeth
Porcelain veneers are stain-resistant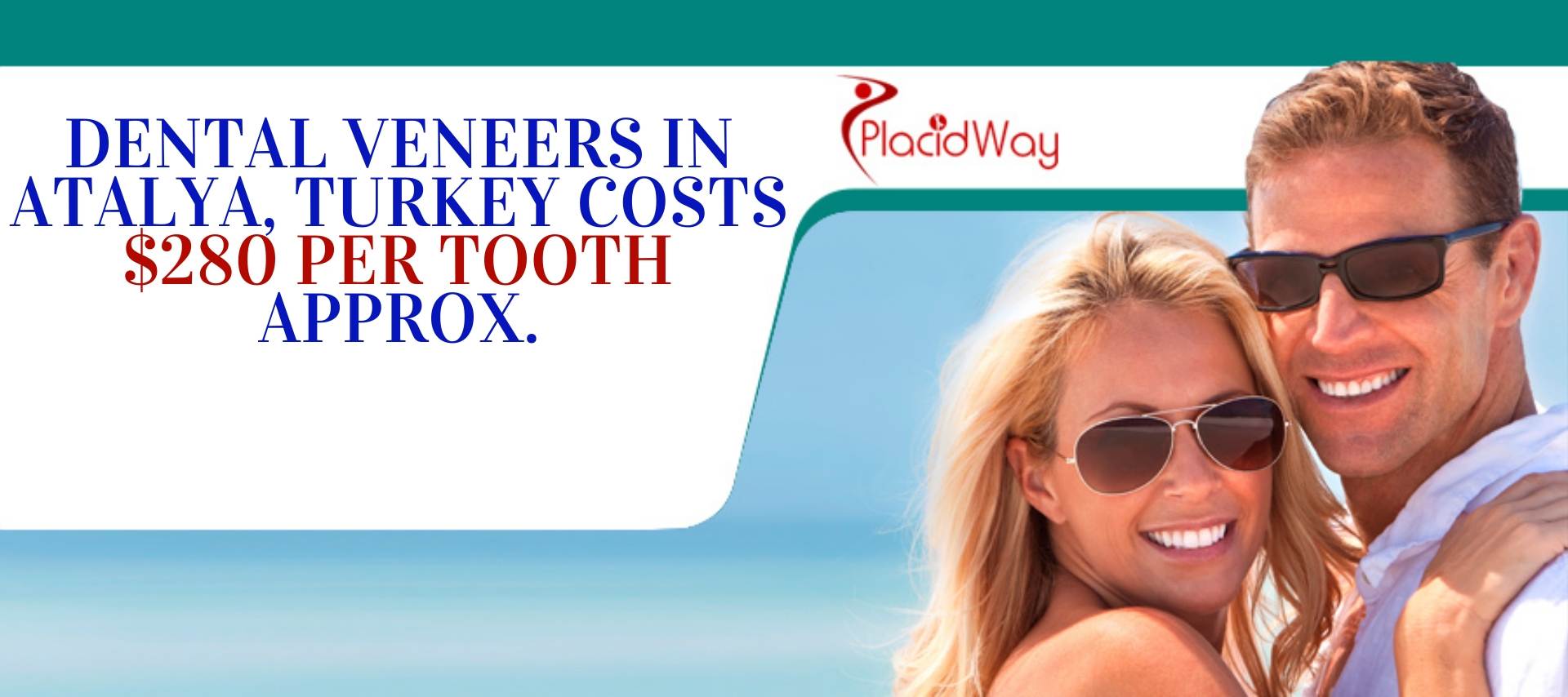 Cost of Dental Veneers
Dental Veneers in Antalya, Turkey costs $280 per tooth approximately..  However, the final prices are determined after physical evaluation and laboratory reports analysis.
Length of Stay: Same day procedure
What is Included in the Price?
Pre and post-operative consultations
All clinic fees
All medical fees and doctor fees,
What is not Included in the Price?
Hotel or recovery house
Preoperative lab work
Airfare
Tests to be Done
Complete blood count
X-ray of teeth
Rh factor blood test
Blood tests for hormone levels
How to Reach Antalya
The city is served by Antalya International Airport. The airport connects the city with the rest of the world and you won't have any problem to visit your preferred destination. Antalya is also connected by highways and you can travel by road as well.
For more details on Dental Veneers in Antalya, Turkey, click the button below!